Precision Made Blow Dart Guns
Many people are finding that blowguns offer a challenging (though easily mastered) and fun sport. With the introduction of paint balls and stun darts, they offer a wide variety of excitement.

These are .40 caliber in size and made of high tensile aluminum. They are the real deal and produce amazing velocity. You can expect ranges over 200 feet and muzzle velocities as high as 350 feet per second.

Each blowgun comes with 8 target darts, mouthpiece, muzzle guard, foam grip and a dart quiver to carry ammo on the tube.
Warning: Will cause extreme fun at backyard BBQ's!
Shoots these accessories: target darts, stun darts and paintballs.
---
The longer the tube, the further and faster it will go!
Approximate Shooting Speeds and Ranges

SIZE

Range

Price

18 inch

100'

30-40'

$8.95

24 inch

150'

45-55'

$10.95

36 inch

200'

90-110'

$12.95

48 inch

250'

145-155'

$14.95

60 inch

300'

190-210'

$18.95

72 inch

350'

246-265'

$21.95
The longer it is, the faster and further it will go.
Excellent activity for camping. They'll love it!
These could be used for hunting in a survival situation. An 18 inch model fits nicely on the top, bottom or side of your pack.
As a backyard activity, this is loads of fun and easy to master! The whole family can enjoy and your kids will learn a valuable skill in both aiming and judging the strength of their breath to hit the target accurately. Makes a fun competition.
Over 40,000 years ago, the first tube shooters began to appear in many different parts of the world. Although crude, these primitive weapons were extremely accurate.
They are still used today for hunting by Amazonian Indians in South America, and by Pygmies in Africa. They were also used by the Ninja prior to 1500 in Japan for silent assassination with poison darts.
It is not known exactly where blow guns originated, however, it is generally believed that they appeared simultaneously in many parts of the world. Back then, they were made from bamboo or other hollowed out woods.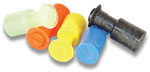 Today's modern man uses one with tranquilizer darts to help maintain today's wildlife. Herpetologists find them extremely useful in capturing elusive lizards with stun darts.
Customers Who Purchased This Item Also Bought
Shipping Deal


Receive FREE UPS Ground or US Mail shipping on all orders of $75.00 and up!
*US Residents only
Join Our Mailing List
We send out Specials and Discounts to those on our mailing list.
Your privacy is kept safe.