6 Point Throwing Stars
If you're looking for the perfect 6 point ninja star, you've found it. Our high-quality stainless steel throwing star measures 4 inches across and comes with a nylon carrying pouch.
6 Point Ninja Star
Why would you order a ninja throwing star? Let's start with a bit of history. These stars have been around for hundreds of years. They were originally a part of the arsenal of weapons carried by true ninja warriors. It was not at all designed or intended to be a fatal weapon. Instead, the throwing star was meant to distract or disable an opponent.
Stainless steel throwing star. 4" across. 6 points. Includes nylon carrying pouch. Item Code: 90-16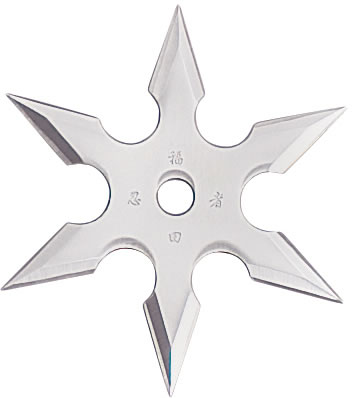 6 Point Throwing Stars
Throughout history, these stars weren't only thrown through the air. They have been used as ground weapons, injuring any person unlucky enough to step on one of the razor-sharp blades. They've been used as fuses of sorts to start fires. And they've been wrapped in poison-soaked cloth. Other ninjas utilized these stars as handheld weapons for close combat.
Today, throwing stars are most often used for target practice. While they do maintain their use as a handheld self-defense weapon, they are more often used as a sport. Some people even choose to begin throwing steel stars before they move on to the slightly more difficult throwing knife. When thrown over- or underhand, sidearm or backhand, you are almost guaranteed that at least one point will land in the target.
If you are interested in a 6-point ninja star as a throwing object, we want to remind you that safety is the most important thing. While these weapons are rarely, if ever, fatal, they can still cause significant injury if they hit someone after being thrown. If you are going to practice with your star, be sure that no one else is in the immediate area. Always tell people that you plan on throwing at targets and where you will be to prevent someone from walking into your path.
The best target for a beginning thrower is one made of soft wood. Your star is more likely to stick in the target rather than bounce off if it is soft. Harder woods like oak should be left for the more advanced throwers.
Our products come with full warranties so you know that you are making a safe purchase. Should you be displeased with your product, we have a 90-day no-risk return policy. Shipping is available to anywhere in the United States and you can order conveniently directly from the site.
At TBOTECH, your safety and satisfaction are our priorities. If you need any assistance during looking for ninja stars for sale, please reach out to our helpful customer service team. We can answer any questions you have and even guide you toward the right product for your unique needs and desires. Once you have decided on the appropriate product, you can order directly from our online shop.
We offer a 100% satisfaction guarantee, high-quality products, and fast shipping. If your order totals $50 or more, shipping is on us. Place your order today and let us know what you think of your items when they arrive!