Throwing Spikes
Assassin Throwing Spikes Set with three massive spikes, each of which is solid, hardcore steel with piercing points. They are lightweight and easy to hold and throw. 6-inch overall length.  It comes complete with a nylon pouch which can either fit on your arm or hung from your belt. Great for martial arts practice and throwing.
Whether you're a budding martial artist or a seasoned warrior, this set will give you hours of fun perfecting your throwing technique. Get a set for yourself and one for a partner and make a competition out of it. See who has the best aim and can stick their darts into the target most accurately.
Ninja Throwing Spikes
These ninja throwing spikes, also known as bo shuriken, include an arm sheath made of heavy-duty black webbing and two elastic velcro bands to attach to your arm easily. Each ninja spike has one pointed end and one blunt end. The ninjas used this weapon for close and semi-long-range attacks. They were generally thrown in an overhand manner which generates enough speed to stick into a target.
The throwing spikes are 6 inches long and made of hardened metal for maximum durability. This throwing spike set comes with five sharpened "nails" with tassels on one end. Ninja throwing darts are weapons and require training and practice to use effectively. Spikes can be thrown with great accuracy and force and can cause serious injury or death.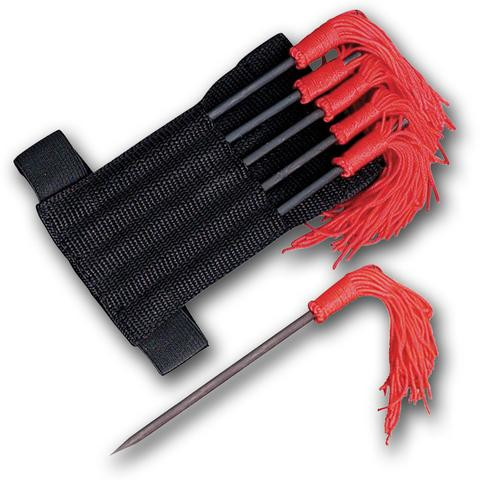 6-inch Ninja Spikes with Nylon Sheath. Pointed on one end. All five spikes fit securely into the nylon sheath with adjustable straps for ankle or forearm fastening. Nylon sheath included.