Your order is processed and shipped on the very same or next business day. You will receive a tracking number once your order ships letting you track your package on its way to you.
For orders $50 and above
Flat rate of $4.99 - $7.99 otherwise
Most orders ship US Mail
USPS and UPS Deliverabilty
Description
Assassin Throwing Spikes Set with three massive spikes, each of which is solid, hardcore steel with piercing points. They are lightweight and easy to hold and throw. 6 inch overall length.  It comes complete with a nylon pouch which can either fit on your arm or hung from your belt. Great for martial arts practice and throwing.
Ninja Throwing Spikes
These ninja throwing spikes include an arm sheath made of heavy-duty black webbing and two elastic velcro bands to attach to your arm easily. Each ninja spike has one pointed end and one blunt end. The ninjas used this weapon for close and semi-long-range attacks.
The throwing spikes are 6 inches long and made of hardened steel for maximum durability. The throwing spike set comes with 5 sharpened spikes. Throwing spikes are ninja weapons and require training and practice to use effectively.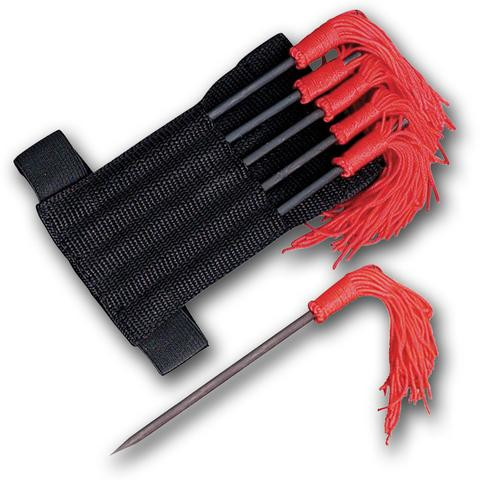 6 inch Ninja Spikes with Nylon Sheath. Pointed on one end. All 5 spikes fit securely into the nylon sheath with adjustable straps for ankle or forearm fastening. Nylon sheath included. 
Reviews
You may also be interested in