Your order is processed and shipped on the very same or next business day. You will receive a tracking number once your order ships letting you track your package on its way to you.
For orders $50 and above
Flat rate of $4.99 - $7.99 otherwise
Most orders ship US Mail
USPS and UPS Deliverabilty
Description
Rainbow Throwing Star
This 6-point throwing star flies through the air with purpose. It is 4 millimeters thick, and it feels as amazing as it looks. This size is great for practicing your shuriken throwing technique. In no time at all, you'll be able to hit your target from varying distances. Beautifully colored rainbow throwing star.
4 inches. Includes Case. 90-16C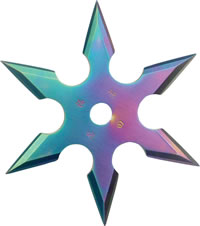 Japanese ninja throwing star
4" DIAMETER
4MM THICK STAINLESS STEEL
RAINBOW COLORED 6 POINT SHURIKEN
INCLUDES NYLON SHEATH 
Reviews