Ninja Grappling Hook
Need a Grappling Hook to Scale a Wall or Climb a Tree?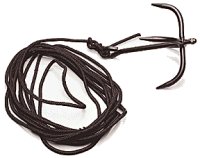 Used by ninjas of ancient times to scale walls, climb trees, and aid in quick escapes. This grappling hook is specially designed to fold flat when not in use.
Heavy duty black finished steel. Compact and easy to carry. Comes with 33 foot nylon rope. A ninja warrior necessity.
The steel hooks grab on and won't let go!
This grappling hook has many other practical uses as well. Military Engineers use a grappling hook to help remove obstacles from a distance, especially when they are suspected of being rigged with explosives.
And as the name suggests, you can throw the grappling hook to an item and drag it back to you. Useful for out of reach or dangerous items.
Ninja Tip - You can tie knots every couple of feet to give you better hand holds while climbing, although this will decrease the length of rope overall. But that doesn't mean you can't change out the rope to add a longer one.
Folds flat when not in use and for carrying. When opened, it is 8 inches across and 9 ½ inches from tip to end.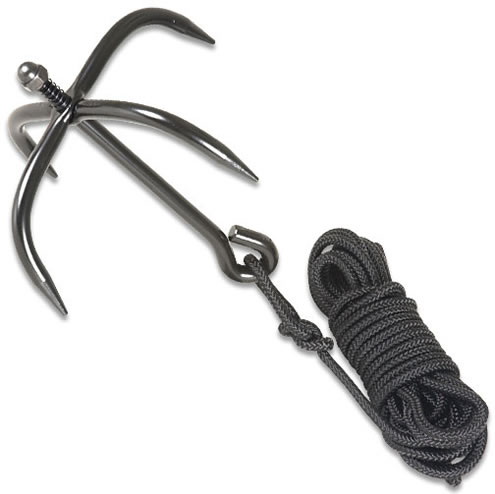 Release the Real Ninja in You
Part of the myth and mystique of the ninja involves their ability to fly, scale walls or travel huge vertical spaces seemingly without a lot of effort. This physical prowess of the ninja has made them very popular mythical figures. But have you ever wondered how they really travel from one distance to another?
Many modern-day ninjas can tell you but they don't necessarily need to have superpowers. The answer to their seemingly superhuman ability actually lies in a simple tool – the ninja grappling hook. If you've always wanted to unleash the real ninja in you, this is important gear to have.
What is the grappling hook?
The ninja grappling hook is a tool made from metal. It usually has three or four hooks arranged in a circular fashion for balance and optimal engagement. The hooks have one handle, which is attached to a rope.
The ninja grappling hook is used to scale vertical obstacles such as walls, rocks, concrete or trees. They were traditionally used by ninjas to help them transfer from one location to the next, usually to climb up or down with the use of the attached rope.
Other Uses
The grappling hook is not just for ninjas alone. They also have many practical uses for rock or mountain climbers, hikers, adventurists and even the military. Grappling hooks can, for example, be used to move distant objects or create makeshift bridges across deep chasms or crevasses. They can also be used to attach to objects and drag them from one place to the next.
Buying the ninja grappling hook
When buying the ninja grappling hook, look for a steel make. This will help ensure solid stability and longevity of the tool. Check the length and material of the rope attached to the hook as well. In general, ropes are made of nylon, which is sufficiently strong and can hold up to a few hundred pounds of weight. Look for a good length as well. Most ninja grappling hooks come with at least 30 feet of rope. If you need a longer rope, you could purchase additional length and attach that instead.
Using the ninja grappling hook
To use the grappling hook, hold the tool firmly by the end of the rope nearest the end of the hook. Swing this rope around until you obtain a sufficient momentum. When you're ready, you can release the hook so that it reaches and engages your target. An important thing to remember: practice using the ninja grappling hook. You have to be confident enough to use it efficiently and safely so that when you truly need it, you'll know what you're doing.