Metal Throwing Cards
These are not traditional ninja throwing stars, that's for sure, but they are just as formidable! Each one of these metal throwing cards features sharp edges all the way around that will really stick into your target. These sets feature the traditional high cards from the game of Poker.
Get your set of steel throwing cards in a Royal Flush in Hearts or a Royal Flush in Spades or even a set with the 4 Aces!
Steel Throwing Cards
Metal throwing cards are similar to throwing knives or the more popular shurikens and have sharp blades on all sides. Give these a try and surprise everyone with your new skill.
Dimensions: 3 1/2" x 2 1/4"
Royal Flush Throwing Cards
In addition to the Royal Flush in Spades, there is also a set of these steel cards that consist of a Royal Flush in Hearts.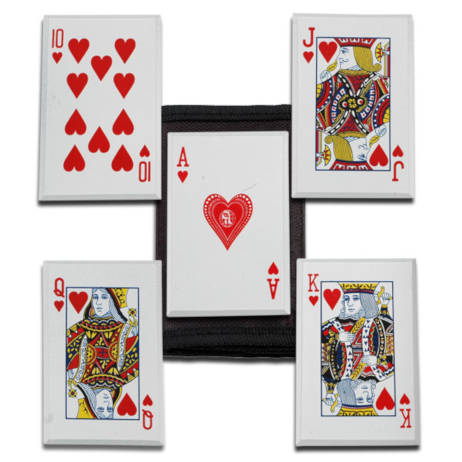 Set of 5 throwing cards. Each item is stainless steel and is similar in size to an actual playing card. Sharp edge all around.
Aces High Throwing Card Set
Set of 4 Cards - An Ace of each suit. Having an ace up your sleeve takes on a whole new meaning with this winning poker hand. Definitely an add-to-cart item! Similar in size to actual playing cards.
You don't need any accessories because each set comes with its own carrying case.
Fun to Throw Metal Throwing Cards
These metal cards provide a lot of enjoyment when you get them to stick to your target. You'll be a pro in no time. Card throwing with a metal throwing card is easy to learn and tremendously fun!