These are stun guns for women. We've chosen these because of their smaller size, ease of use, and because we know you like pink. They're not all pink, however so you get to choose your own style. These will also fit inside of a purse or can hang on your side while jogging or walking.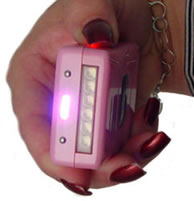 Tasers for Women
With high volts reaching into the millions, us ladies can now find lip stick, cellphones, and even perfumes all bottled up with teeth clenching jolts of electricity that will give your unsuspecting attacker a surprising shock of his life.
These accessory-like stunners allow you have the personal protection ability you need while also not compromising your style. We all know that women are targeted for crime more than men.
We may be not as strong, but we are certainly just as smart or even smarter. Carrying "protection" just got a whole new meaning!
Women's self defense has come a long way, baby. And now there is a way to protect yourself! Be sure to see our list of 50 ways to protect yourself.