Shipping Policy
Most orders will ship the same or very next business day!
Please make sure you provide the correct information when placing your order - most importantly the billing address for the credit card as well as the shipping address. These are the most common items that can cause a delay in shipment.
* IMPORTANT NOTE: Ship day means the day your order ships out - not when it will be delivered to you. For example, if you place an order on a Monday, your order should ship (not be delivered) no later than Tuesday. Your order will then be delivered to you dependent upon the carrier.
FREE SHIPPING: Only orders totaling $50.00 or higher qualify for free standard shipping.
If your order qualifies for free shipping, your order will ship at our discretion either by UPS Ground, US Mail, or another Carrier. Your shipment confirmation email will let you know how it was shipped and provide you with the tracking number. Available to US Residents only.
Shipping Cost
Quick Ship shipping rates are flat cost-based.  We've switched to a flat rate of $4.99, $7.99, or Free for orders over $50.
Hawaii and Alaska orders do not qualify for free shipping.
How long will it take to receive your order? Here is a list of our shipment methods with approximate transit times for the US:
These methods will be delivered in the approximate days in transit DEPENDING ON THE DESTINATION
Ground Advantage - 2 to 5 business days
Priority Mail - 1 to 3 days (excludes Sunday/Holiday delivery)
UPS Ground - 1 to 7 business days (see UPS Ground map below)
Once your order ships, a shipment confirmation will be emailed to you no later than the following day after your order ships, which will provide the method of shipping and the tracking number(s).
The below map is for transit times for UPS Ground shipments only (not US Mail):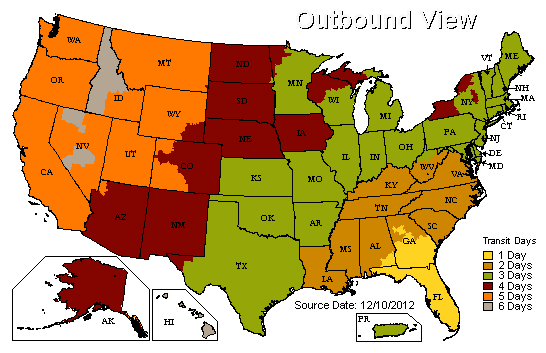 Freight Forwarding Companies - We do not ship to freight forwarding companies. If your order contains a shipping address that is a freight forwarding company, your order will be canceled and the credit card transaction will be voided or refunded.
If you choose to pay by check or money order, please mail to our address. Your order will ship upon receipt of payment and cleared status at the bank once deposited.
Some of our products, such as stun guns and pepper sprays, may be restricted in your state. For our most current and up to date shipping restrictions, please check our Shipping Restrictions page.
If you have any questions regarding our shipping policies, please do not hesitate to contact us at customerservice@tbotech.com or use the contact us form to send customer service a message.