Ninja Hand Claws - Shuko
Ever wonder what a Ninja uses to climb a tree? These are it! 
Ninja Hand Claws
How do you climb a tree that doesn't have any low branches? Ninja style, of course. This ninja climbing tool is worn on the hands for climbing, scaling, ice walking, traversing, and even for self defense.
The spikes are curved inward giving you that positive grip. These hand claws get you up a tree that doesn't have any low hanging branches. Sold as a set of two, you get one for each hand.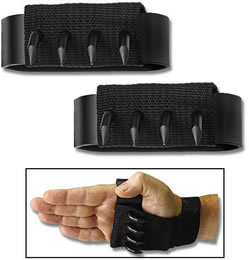 Adjustable wrist bands. Ninja Shuko comes in a set of two.
Ninja Claws Features:
Hardened Steel Construction

Four Sharp Points

Approximate Dimensions: 4.25" by 1.75"

Adjustable Nylon strap

Weight: Approximately 8 ounces
Called Shuko in Japanese, this claw-like weapon was used in Ninjutsu. It is also known as Tekagi-Shuko. This Ninja weapon was used to strike opponents with its iron claws and also as a tool in order to climb walls and trees.
Ninja Climbing Claws
These shuko claws are used in conjunction with the Ninja Foot Spikes to give you a positive grip on both your hands and feet. The rigid spikes dig into the bark giving you a solid hold. Get both sets!