Order Today and Get a Free Pepper Spray with Your Order!

---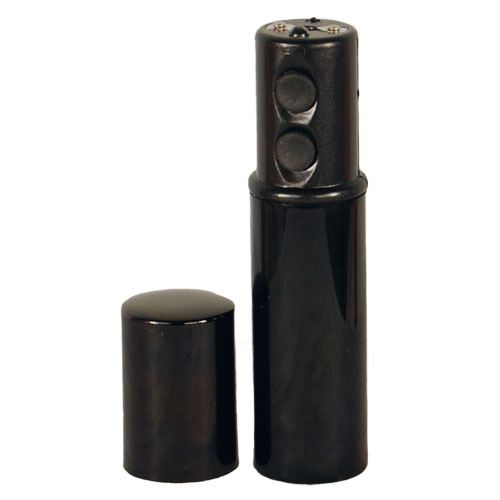 The STUN MASTER 950,000 Volt RECHARGEABLE LIPSTICK STUN GUN with FLASHLIGHT is the smallest stun gun we carry and was built to look like a tube of lipstick. It's innovative design and small size make this stun gun unique and super portable.
The Lipstick Stun Gun Surprise
Whether you're carrying an oversized purse or an evening clutch, this lipstick stun gun goes wherever you go. If your date gets too fresh with you and won't take no for an answer, you've got something for him.
You can gain the element of surprise by acting as if you are going to put on some lipstick. When you take the cap off, you can give him the shock of his life.
Under the cap are 2 buttons: one for the flashlight and one for the stun gun.
Powered by a built-in rechargeable battery and includes a charger cord that plugs into the wall. Simple to use and once you charge it up, it lasts for a couple months.
Disable Pin: The wrist strap is worn around your wrist and plugs into the bottom of the stun gun. If the stun gun is taken away from you the disable pin will pull out, preventing the stun gun from working.
Dimensions 3" x 3/4"
Some states have restrictions on Stun Devices. Check if your state has restrictions here: Shipping Restrictions



All orders are shipped within 1-2 business days by the method of shipping chosen when checking out. Please read our Shipping Policy for full details.
Be assured that your shopping experience is completely safe. The order site is secured using a SSL Web Server Certificate which encrypts all data to and from the site. You can be assured of the security of your information to buy or purchase with confidence.
Free Shipping


Get FREE Standard Shipping if your order is over $49.00!
*US Residents only