The STUN MASTER 3 Million Volt RECHARGEABLE LIPSTICK STUN GUN with FLASHLIGHT is the smallest stun gun we carry and was built to look like a tube of lipstick. It's innovative design and small size make this stun gun unique and super portable.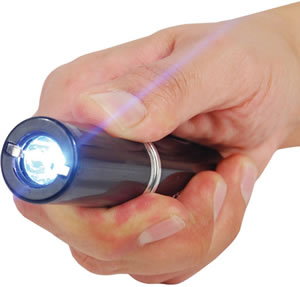 The Lipstick Stun Gun Surprise
Whether you're carrying an oversized purse or an evening clutch, this lipstick stun gun goes wherever you go. If your date gets too fresh with you and won't take no for an answer, you've got something for him.
You can gain the element of surprise by acting as if you are going to put on some lipstick. When you take the cap off, you can give him the shock of his life.
Under the cap are 2 buttons: one for the flashlight and one for the stun gun.
Powered by a built-in rechargeable battery and includes a charger cord that plugs into the wall. Simple to use and once you charge it up, it lasts for a couple months.
Rechargeable
5" X 1"
Comes in 3 colors - Black, Pink and Purple
3 Million Volts
4.1 Milliamps
Some states have restrictions on Stun Devices. Check if your state has restrictions here: Shipping Restrictions

You may also be interested in these Disguised