The STUN MASTER 3 Million Volt RECHARGEABLE LIPSTICK STUN GUN with FLASHLIGHT is the smallest one we carry and was built to look like a tube of lip stick. It's innovative design and small size make this shocker unique and super portable.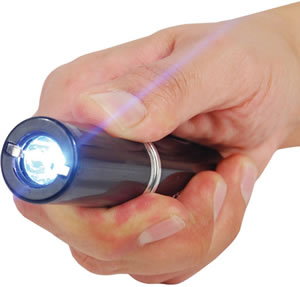 The Lipstick Stun Gun Surprise
Whether you're carrying an oversized purse or an evening clutch, this baby goes wherever you go. If your date gets too fresh and won't take no for an answer, you've got something for him.
You can gain the element of surprise by acting as if you are going to put on some makeup. When you take the cap off, you can give him the shock of his life.
Under the cap are 2 buttons: one for the flashlight and one for the stunner.
Powered by a built-in rechargeable battery and includes a charger cord that plugs into the wall. Simple to use and once you charge it up, it lasts for a couple months before you need to recharge.
Rechargeable
5" X 1"
Comes in 4 colors - Black, Pink, Purple and Red
3 Million Volts
4.1 Milliamps
This is a great gift to give to your college aged daughter, niece, or friend.
Sexual assault crimes on college campuses are still prevalent and you need to be prepared to protect yourself. This self defense product is designed for those moments when someone is close to you and you need to make a get away.
Once you stun your attacker, immediately make a run for it and get help. Report the attack to campus security or directly to the police. It's better to be safe than sorry and you may be preventing a future assault on someone else.
Some states have restrictions on Stun Devices. Check if your state has restrictions here: Shipping Restrictions

Customers Who Purchased This Item Also Bought
Shipping Deal


Receive FREE UPS Ground or US Mail shipping on all orders of $75.00 and up!
*US Residents only
Join Our Mailing List
We send out Specials and Discounts to those on our mailing list.
Your privacy is kept safe.