Tossing some blades at a target is a lot of fun! We have seen a definite uptick in interest for this sport and for such a cheap price, anyone can learn this time-honored skill.
These throwing knives are great for practicing your throwing technique. The sport of throwing knives is becoming more and more popular as people realize the fun and excitement of being able to land a knife exactly where they want it.
Throwing Knives - A Fun Sport
These inexpensive knife throwing blades are ideal for beginners and those just getting interested in the sport. They're sturdy enough and balanced enough to practice with. Learning to throw a knife isn't that difficult. Once you get the hang of it you'll be able to throw just about any knife accurately once you get a feel for how they fly.
While perfecting your throwing technique, you will be able to make these knives stick exactly where you throw them. You can impress your friends with how good you are. They'll be amazed at your accuracy with just a short amount of practice.
All sets of throwing knives come with a case that you can keep them in. Carry on your belt or in your backpack.
When camping, bust them out and practice learning your new skill.

Find a secure area at the next BBQ and have fun practicing with your friends.
Knife throwing blades are considered to be an art by some, a tool of the trade by others. Some form of knife throwing can be found in almost every culture, from ancient Japan to backwoods training camps, and the types of knives thrown can range on up to machetes to axes.
Knife Throwing Blades
However, most people prefer small and carefully balanced throwing knives simply because they offer the least amount of wind resistance, easier accuracy, and more affordability. Quite simply put, they were created with this function in mind, so put away your kitchen knives and use the real deal.
Many of America's first contact with the art of knife throwing came from the traveling circuses that were popular at the beginning of the 1900's. Many of the sideshows featured knife-throwing act.
You may recall scenes from movies where a lady was strapped to a spinning wheel while the knife thrower barely missed her time and time again? It was from these acts that thousands of adults and children began to develop an interest.
However, even long before that, many pioneers and gold miners enjoyed gathering for competitions in hatchet and tomahawk throwing. Big fun was had by all as they competed in seeing who was the most accurate.
If you want a product that is somewhat similar to the Western knives, try the set of 3 Corded Knives. The handle is carefully wrapped in cord, and a case for your knives is included.
If you are more interested in the Martial Arts style of knives, the slender Three Throwing Knives Set is a perfect choice. Each knife in this set is carefully balanced and is lightweight enough to carry with you. You can slip the knives into the included knife case and enjoy using them wherever you have a proper target.
Since these are made of high-quality metal, they can be sharpened and straightened easily. These are small enough for the beginner to use, yet balanced enough for the professional knife thrower.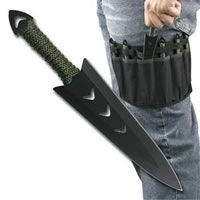 Japanese warriors typically used longer knives when they needed to throw them, and the Thrower Set with Leg Sheath is the perfect combination of longer knife functionality and stealth. The knives are covered in a cord wrapped handle for a good grip, and these six blades fit perfectly into the sheath that can discreetly be strapped to your leg.
The stainless steel blades can be sharpened to a razor's edge or left blunted for safer handling. The double edge blades mean that you can quickly grip the knife and throw it in one smooth movement, and know that you will hit your target each and every time.
Whichever type of knife throwing blade you choose, you'll have hours of fun perfecting your throwing technique.