Electric Stun Gun
Many of us carry around an illumination source on us at all times. Either on our belt or in our toolbag, having a source of light is obviously very useful at night or when needing to peer into dark places.
At 120 lumens, this is very compact but also very powerful. Shining something this bright into someone's eyes will certainly temporarily blind them and take away their night vision for several minutes. As your first line of defense against attack, this simple procedure can give you a momentary advantage.
The BashLite Electric Stun Gun
However, this baby has a formidable surprise contained within its circuitry. You can immediately move in and make contact with the perpetrator to deliver an extremely powerful electrical shock that has the ability to overwhelm their natural nervous system.
By overloading the nervous system with electricity, you will cause them severe pain with the ample 4.7 milliamps. And with extended contact, you can force them to retreat and disengage their attack against you - or even drop to the ground until their body lets them recover.
The contact "probes" on this baby are not just two points. Covering nearly the entire circumference of the head, the metal contacts give you the ability to deliver justice even at an awkward angle.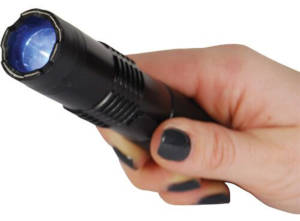 Easily slips into a purse or handbag!
The BashLite 15,000,000-volt Electric Stun Gun has a sleek, durable design. It is made from high-quality aircraft-grade aluminum. The BashLite will strike with 4.7 milliamps of stun power. The knockout punch of the stun gun will take an attacker down very quickly, leaving them in pain and on the ground. The super bright 120-lumen light can be used tactically and shined in the eyes of an attacker to temporarily blind them.
This electric shock gun comes with a wrist strap lanyard and has an on/off safety switch. The sleek design is perfect, so it can fit easily in a pocket, the side door of a car, or in your hand ready to strike.
It measures 5 13/16" x 1" and also comes with a wall charging cord and nylon holster.
Electrical Stun Gun Features:
15 Million Volts

4.7 Milliamps

120 Lumen Super Bright Flashlight

Rechargeable: Includes a wall charging cord

Safety Switch: On/Off

Wrist Strap

Includes: Nylon holster

Dimensions: 5.8125" long x 1" diameter