Fake security cameras are a low-cost solution to increasing your security. Studies have shown that just the presence of visible security measures has prevented crimes like robbery, theft, and vandalism.
You can now deter robbery, theft, and vandalism. You see them in stores all the time. It's very rare for a store nowadays to not have any type of security camera system. You may also be surprised to learn that a number of domes you see in popular stores are not even real.
But, they look just like real ones. Stores do this to reduce cost but still make criminals believe they are being watched. Quite effective.
Your home can benefit from these fake security cameras.
If you were a burglar and saw one of these but didn't know it was fake, would you still try to steal from that place? Probably not. You'd most likely find a home or business that didn't have any surveillance.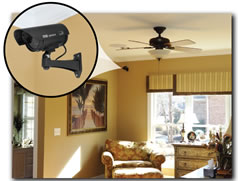 A dummy camera is simply a real security camera that doesn't have the electronics inside. However, the trespasser, burglar or criminal doesn't know that.
All of these decoys include a blinking red LED and operate on batteries. There are some with a housing and also power cables which adds to the realism. These features make them almost exact replicas of the real deals.
How Dummy Security Cameras Dramatically Improve Home Security
Burglary and home invasion are real concerns for all too many homeowners today. While everyone wants to feel secure in his or her own home, many people can't afford the steep price tag that comes with a top-notch electronic surveillance system. There is a way to reap many of the benefits without spending all of the cash, though: the dummy security camera.
The Psychology Of Thievery
Although homeowners worry about falling victim to movie-style expert burglars, the simple truth is that most criminals with a taste for breaking and entering are strictly on the lookout for easy targets. It doesn't take much at all in the way of deterrence to convince thieves to look for a less-risky burglary opportunity.
Being under observation is a powerful force that encourages good behavior. When people (law-abiding or otherwise) believe they're under surveillance, they're less likely to consider bending or breaking the rules. This is why small business owners were the first to realize the benefits of dummy security cameras. Installing these fake cameras in the public areas of a business resulted in a dramatic drop in merchandise loss due to shoplifting. Even in large corporate stores, not every camera visible on the ceiling is a genuine recording device. 
A Real Deterrent Benefit At A Fraction Of The Cost
The benefits offered by false cameras were quick to translate into the world of home security. Today security-conscious homeowners can choose from a wide variety of dummy cameras. These are, for the most part, highly effective deterrents that make home far less inviting to potential robbers. Best of all, a highly realistic dummy camera costs just a fraction of what the genuine article costs. This enables the budget-minded homeowner to augment a basic security system or create a completely false one out of whole cloth.
Commitment To Realism
Early dummy security cameras left something to be desired in the realism department. When the concept was new, relatively few manufacturers offered these dummies for sale. Experienced burglars were quick to learn the handful of different dummy models, and this eliminated their deterrent effect. Things are quite different today! Modern false cameras are manufactured by the same companies that produce the genuine article. These fakes are built from the same materials and carry the same logos as the real thing, lacking only the electronic guts necessary for real surveillance. Good fakes even include a flashing LED light (battery powered) for improved realism.
Quality And Durability
Although dummy cameras are easy to purchase online, many homeowners find it useful to visit a real store to make a thorough, first-hand comparison between dummy cameras and the real McCoy. Confirming that the same exterior materials are used on dummies is important; a false camera that doesn't weather realistically will soon be exposed. Online resources can provide valuable feedback from other customers that can point out potential flaws. For instance, many dummy cameras equipped with LED flashers have poor battery life. Doing a little research in advance helps steer homeowners towards quality, long-lasting cameras that will provide an invaluable deterrent effect for years to come.
Buying a few good fake security cameras is an easy and effective way for homeowners to make their homes safer, deter crime, and protect their property. While obviously not as effective as a bona fide surveillance set-up, a good set of fakes is certainly better than nothing.