Stun Master Li'l Guy 12,000,000 volts Stun Gun with flashlight and FREE Nylon Holster. This stun gun is small and compact and is easy to conceal in your hand.
This little guy of a stun gun is now one of our highest voltages!
Advances in technology keep making self defense devices
smaller but more powerful.
No need for bulky or oversized clunkers anymore. All your protection needs in one small package.
Don't let the name Stun Master Li'l Guy fool you. It has a beast inside just waiting to be released. Just press the shock button and the Lil Guy thrashes 12,000,000 volts out of the metal probes.
The safety switch is off when in the down position, middle position is the super bright LED flashlight, and in the up position the shock is turned on once the trigger is pressed.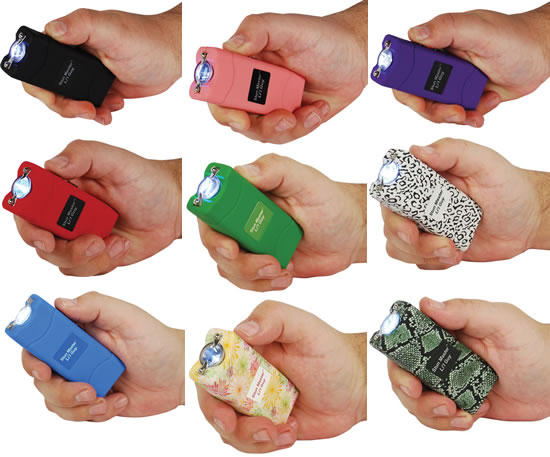 Super Bright 120 Lumens LED flashlight
Built-In Retractable Charger
Comes with FREE Nylon Case
Heavy Duty Prongs That Won't Break
Has A Rubberized Coating For A Non Slip Grip
It Measures only 3 3/4" x 1 1/2" x 3/4"
4.2 milliamps
Available In 9 Colors: Black, Pink, Purple, Red, Green, Animal Print, Blue, Flower Pattern, Snake Skin
Some states have restrictions on Stun Devices. Check if your state has restrictions here: Shipping Restrictions
Customers Who Purchased This Item Also Bought
Shipping Deal


Receive FREE UPS Ground or US Mail shipping on all orders of $75.00 and up!
*US Residents only
Join Our Mailing List
We send out Specials and Discounts to those on our mailing list.
Your privacy is kept safe.