Essentials Package
This essentials personal protection package is the minimum you need to keep yourself safe. 
Comes with the 12,000,000 volt cell phone stun gun, a multi-pack of pepper sprays (3 different sprays - 1 for Car, One For Home, and 1 for You), an extremely loud personal alarm, and the "how-to" book for defending yourself with pepper spray.
By reading the pepper spray guide and learning what to expect and how to deal with the situation, you will be better prepared in a real situation. The personal alarm will draw attention to you, the pepper can extend your defensive range, and the high powered stun gun gives you the advantage in an up-close and personal confrontation. It's important to practice using your pepper spray.
With these products, you have the tools to defend against an attack and get yourself to safety.
Personal Protection Essentials Package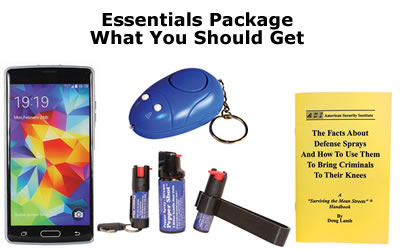 Big savings on this package deal. If you were to buy these products separately, it would cost you $59.80. With savings close to 20%, your cost is only $49.80.
Some states have restrictions on Pepper Sprays and Stun Devices. Check if your state has restrictions here: Shipping Restrictions