Auto Visor
Fits on your car or truck's visor flap.
If someone comes up to you in your vehicle and poses a threat, you will be able to reach up, grab your pepper spray, and aim it out the window at your assailant.
The Auto Visor Pepper Spray is made with 1.2% Major Capsaicinoids. The Major Capsaicinoids are the true heat measure and Pepper Shot 1.2% MC is more effective than of most other pepper sprays.
In addition to causing an attacker pain, The Pepper Shot 8.5% oleoresin capsicum formula swells the mucous membranes, which makes breathing difficult, and swells the veins in the eyes, causing the eyes to close.
It's made from 2,000,000 SHU's of raw pepper and these effects can last up to 45 minutes and cause no permanent damage. Has a UV identifying dye to help aid in the identification of an attacker.
This is one of our most popular pepper sprays. It fits on the visor of your vehicle, giving you pepper protection where you need it the most.
Effective up to 6-8 feet. Contains 6-10 one second bursts. 5 ⅛" x 3 ¼"
Additionally, the police will have no problem identifying who you sprayed because there is a vegetable dye contained in the pepper spray which easily identifies the attacker.
Getting car jacked can be prevented.

Getting shoved back into your car and being taken somewhere to get raped can be prevented.
This car pepper spray is always available because it's mounted right on your car visor. Put it there and keep it there!
The Car Pepper Spray with visor clip is a simple way to make sure you always have your pepper spray while in your vehicle. The auto visor clip slips on your vehicle's sun visor and is always available for emergency protection.
When spraying out the window, you do need to be careful that the wind is not going to blow the stream right back in your face. Try to aim it in such a way that the wind will not blow the pepper spray into your open window if at all possible.
Practice removing the car pepper spray when there is no threat.
Repetitive practice trains your mind and hands so it will be a swift, smooth motion when you need to use it for real. You don't want to waste any time removing it from your visor, unlocking the safety mechanism, pointing it in the right direction, and pressing the actuator to deploy the pepper spray. You should be able to do this quickly, confidently, and effectively.
Every car or truck should have this convenient self defense item readily available.
Keeping yourself safe is everyone's top priority. Give your safety an extra layer of vehicle protection with any of our Pepper Shot pepper sprays.
Some states have restrictions on Pepper Sprays. Check if your state has restrictions here: Shipping Restrictions
Auto Model with Visor Clip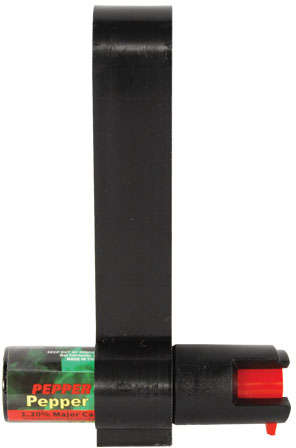 1/2 ounce canister with auto visor clip

Locking actuator

Effective up to 8 feet.

Contains 6-10 one second bursts.