Keychain Alarm
The personal alarm keychain attaches easily to your keys so that it is always within reach and can be activated at the first sign of danger.
A person is most likely to be attacked at night while walking to or from their car or home.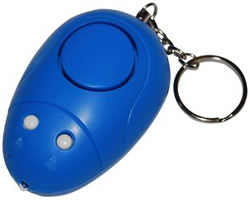 The keychain alarm performs two valuable functions, making it the ideal product for your security and safety. Personal Safety Alarm - Pulling the safety pin from the base of the unit activates it. You can also press a button on the unit to make it sound off.
Mini-Flashlight - A separate button allows you to use the safety device as a bright flashlight without activating the loud siren.
No longer will you have to leave yourself in potential danger by searching for keyholes in the dark. You will be able to quickly enter the safety of your home or vehicle.
Having a flashlight on your personal keychain alarm ensures that you will always have a convenient source of light in an emergency. Great gift idea with a low price tag.
Safety Alarm Keychain with Light
One of the fastest-growing items in the self-defense industry is the safety alarm keychain. An attacker's worst enemy is attention, and this portable keychain alarm will certainly make some noise. Personal alarms are legal to carry in all 50 states (even on airplanes!) and are a very safe method of self-defense.
They require no training or skill to operate and can be used by anyone regardless of age or physical ability. Perfect for all ages including men, women, kids, and the elderly.
Victims can be in panic mode and too traumatized to shout for help in unfamiliar and dangerous situations, increasing their vulnerability. Criminals do not like to draw attention and will be more likely to run off when they realize the alarm cannot be stopped.
Key Chain Design Can Attach to Your Keys, Your Purse, Backpack, Clothing, or Briefcase
It is small in size and lightweight enough to attach to your keys with the included keyring chain. In the event of an emergency, pull the alarm from your keys or your bag and throw it several feet away from you. The assailant will not be able to silence the alarm.
130db loud and comes with a convenient light. The safety alarm is activated when the pin attached to the keychain is pulled.
You can also press the button on the top of the unit to test the unit or to give a warning.
What are the benefits of having a personal alarm keychain?
A personal alarm keychain can offer a number of benefits, particularly in terms of personal safety. For one, it can be a very effective way to deter an attacker or would-be assailant, as the loud noise produced by the alarm can often startle and disorient them long enough for you to make your escape.
Keychain alarms can be used as a flashlight without activating the sound to provide additional nighttime protection.
Easy to carry and this personal alarm keychain can be a great security addition when camping, hiking, or just for regular travel.
Use this in conjunction with one of our pepper spray products or other safety devices to give yourself an even bigger advantage.
One 12-volt battery is included. 
Order yours today, and it'll be shipping to you right away!