This wall clock safe is a timely hiding spot. A burglar certainly isn't going to think to open a clock looking for your prized possessions. The velvety interior that lines the hollowed out portion will protect whatever you decide to put inside.
There are 3 separate spaces inside. Clock diameter is: 10 inches. The inside diameter is: 8 1/2 inches with a depth of 1 7/8 inches.
This hidden safe features a working clock that takes one AA battery (not included). This means you can put it pretty much anywhere. As a working timepiece, it will look perfectly natural hanging on a wall.
Wall Clock Hidden Safe
Hide your valuables right on the wall. They'll be safe from burglars and thieves.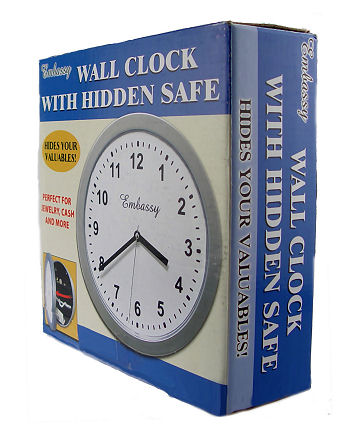 Customers Who Purchased This Item Also Bought
Shipping Deal


Receive FREE UPS Ground or US Mail shipping on all orders of $75.00 and up!
*US Residents only
Join Our Mailing List
We send out Specials and Discounts to those on our mailing list.
Your privacy is kept safe.