Hollowed Out Book
This book safe is a great hiding spot. A burglar certainly isn't going to stop and read a novel while he's robbing you. Nor is he going to go through your library collection to see if any are hollowed out like this one is. Video Below.
One of our most popular diversion safes, this hidden book safe has its center hollowed out so you can hide your valuables.
The velvety interior that lines the hollowed out portion will protect whatever you decide to put inside.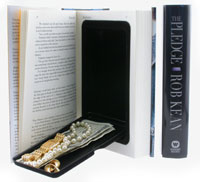 Although not the most spacious hiding spot, it does provide adequate space for most treasured items including credit cards and personal papers you would need to keep safe and hidden.
You won't be able to tell this book safe from any other reading material because it's made out of a real one you can find in your local library. In fact, it's designed so well, that unless you open it past the first few pages, you won't be able to tell it apart from any of your other volumes. You can even take this diversion safe with you when traveling. Thieves are looking for valuables, but they won't think to look here. A great idea for your home or a great idea to give as a gift. Also available in a locking version.
Hollowed Out Book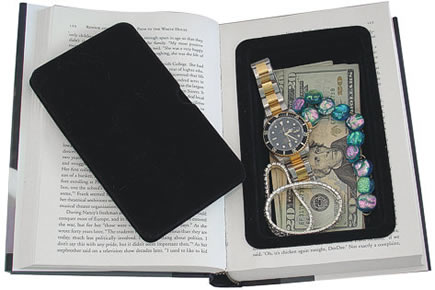 The inside dimensions are: Length: 6 3/4" x Width: 3 3/4" x Depth: 1".
The first places thieves look for valuables are right in your dresser, desk, drawers, and any jewelry cases you may have lying around. One place thieves do not care to look at is a single book in your collection.
Thieves don't care to read when breaking into a house, nor do they care to look through all your reading material. They'll never think twice to look in a dull tome on an unimposing shelf. This is where the book hidden safe comes in handy.
Book Safe
A clever and simple design, the book safe is designed to fool even the most hardened crook. The weight is equal to that of any other one its size and doesn't sound hollow or give off any inclination of hiding anything inside its secret compartment.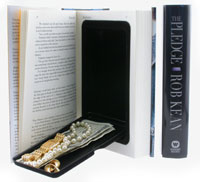 After opening it up and passing by the first few pages, a velvety soft opening is revealed. Inside, there is enough room to hide money, jewelry, social security cards, I.D. tags, passports, birth certificates, etc. It is not the biggest safe, but it is great for hiding small, treasured valuables and currency.
"I absolutely love this hidden safe. It's cheap, looks like the real thing, has enough room to hide important identification cards, and also wads of cash. I feel comfortable knowing that I can leave the safe in my office, car, or home. In addition to that, I enjoy taking the hidden safe on trips as well. If thieves are to steal something from me, it won't be the safe. It is a must-have for me, and I am truly glad that I purchased it."
The book safe is one hidden safe that every person should have. It fits in well with my large collection, and never gives any afterthought of being more than just a book. No need to get an insanely large safe when it's more economical to get a smaller, less invasive way to hide your valuables. The smartest thief will never suspect a harmless book to hide anything special. A great and advantageous item, this will keep the criminals guessing and keep your valuables secure.
See also locking book safe.
More hidden safes
jesus vidal
Verified purchase