Wall Socket
Safeguard Your Treasures with the Wall Socket Outlet Safe - Your Secret Shield of Protection!
Searching for the perfect blend of discretion and trustworthiness to secure your prized possessions at home? Look no further - our Wall Socket Diversion Safe is your ultimate solution! Crafted with expert precision to seamlessly blend into your walls, this ingenious safe remains virtually invisible, even to the most cunning burglars. With spacious internal dimensions of 2 3/16" x 2" x 5", you can store your money, jewelry, and cherished items without a worry.
Plus, the customizable faceplate allows you to add a personalized touch, making it uniquely yours. Please note, however, that this safe is not a functional power socket and is intended solely for safety purposes. With the Wall Socket Outlet Safe, you can trust in a reliable and discreet defense for your home!
Enhanced Discretion, Unmatched Security:
Let your valuables rest with ease, concealed within the walls of our Wall Outlet Diversion Safe. Expertly designed to blend in seamlessly, this innovative safe ensures no one will ever suspect your secret stash.
Your Personal Touch, Your Peace of Mind:
Personalize the faceplate to your liking, making the safe truly yours. Embrace a customized touch while fortifying your valuables against potential threats.
Roomy and Reliable:
With generous internal dimensions of 2 3/16" x 2" x 5", our Wall Outlet Safe provides ample space for your money, jewelry, and even some folded-up documents, giving you complete peace of mind.
Caution: Not a Power Socket - Your Safety Comes First:
For your safety, please note that the Outlet Hidden Safe is not a functional power socket. Its sole purpose is to protect your valuables, ensuring you have a discreet and secure sanctuary for your prized possessions.
Unveil Unseen Protection Today:
Enhance your home security with the Wall Socket Diversion Safe - the epitome of discreet defense. Store your treasures with confidence and order now!
Secure Your Valuables with Confidence:
Maximize your protection while maintaining a low profile. Choose the Wall Outlet Safe for your home, and embrace the peace of mind you deserve. Order now and elevate your security game!
A truly ingenious idea! A hidden diversion safe that's made out of a regular plug outlet. This wall socket safe looks just like the rest of the plugs that are already installed in your home. Except this one can hide money, jewelry, or other small valuables that you don't want a thief to find.
When you need to take something out or put something in, just use the key to open and close it. Looks just like the real thing and can be placed anywhere.
Wall Socket Outlet Safe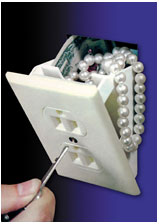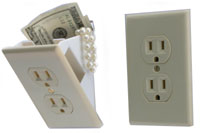 A mini diversion safe that looks like it's supposed to be there. Hide your stuff without concern.