Locking Book Safe
Did you know that security experts suggest locking up your valuable documents? Many of us have our birth certificate, Social Security cards, wills and other important documents in the home, but few of us keep them as secure as we should.
At TBOTECH, we are pleased to offer a safe that is designed to be inconspicuous should an intruder enter your home. At first glance, the locking book safe looks exactly like what its name implies: an everyday book. Place it on a shelf with other books or even on its own. Either way, it's the last place a thief is going to look.
Book Safe with Key
Inside the "book" is a metal box you can lock. A useable area of 1 3/4 inch by 3.75 inches by 6 inches means you can store important documents or small valuable items. A keyed lock ensures that, even if found, your locking book safe will be difficult to open.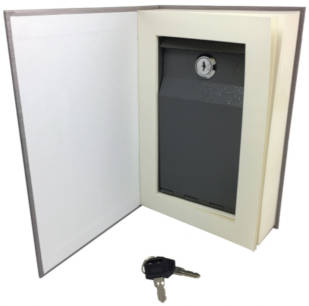 What types of documents should you place in your safe? Here are just a few ideas:
- Birth Certificates: Keep your birth certificate, your spouse's and any dependents locked up tight. You can certainly order a duplicate if you need to, but why go through the hassle? When you keep your birth certificates in a lockbox, you always know right where they are.
- Marriage or Divorce Decrees: These important documents need to be protected. Any papers that pertain to your marriage and/or divorce should be kept in your safe so that you can grab them when the need arises. Leave them laying around your home and a would-be thief has access to more personal information than they should.
- Social Security Cards: Did you know that carrying your Social Security Card with you could be a mistake? If you lose it, anyone who picks it up has exactly what they need to steal your identity. Tuck your card away in your safe and don't pull it out unless it's required to prove your identity.
- Living Will: You want to be certain that your wishes are carried out should you become unable to make medical decisions for yourself. Your family should not have the added stress of having to search for papers they know exist. Place your living will in a safe and tell a trusted family member where it is located.
- Legal Will: Your last will and testament is one of the most important documents in your possession. Don't subject it to loss or ruin. It is only one of the documents that should be placed in your secure lockbox.
- Deeds and Titles: If you haven't already, gather any copies of deeds and titles that you have. These important documents are proof of ownership of your valuable property and deserve to be protected.
- Financial Documents: You can certainly access your financial accounts online, but can your loved ones do that for you should you become incapacitated? Place a copy of insurance policies, bank accounts, and investment accounts in your locking book safe. Not only will they be hidden from view, but your family can gain access to them should the need arise.
These are only examples of the important documents that should be placed in a locked safe within your home. You may think that you want them within easier reach, but is it really necessary? If you are like most people, you haven't looked at some of these documents in years. Placing them in a safe is the smart thing to do!
Placed on a bookshelf, the hidden safe will blend right in.
Our locking book safe is a wise investment at an affordable price. That said, is there really a price you can put on your peace of mind and safety? At TBOTECH, we believe in self-defense and that includes the defense of the intangible: your identity. It costs relatively little to ensure your valuable documents are locked up tight and that your sensitive information stays private.
Order your locking book safe today and hide your valuables in plain sight. We guarantee quality products and strive to exceed your expectations when it comes to customer service. You can trust in the product you purchase from our company and we back it with a 90-day money-back guarantee. If you aren't happy with your purchase, neither are we!
This is an excellent way to protect important documents, like passports, military documents (for inactive and retired veterans, your DD-214 is something you ALWAYS need to keep secure!), birth certificates, marriage certificates, divorce papers, etc.
Looking for one specially designed for handguns?
There are a number of different types of hidden safes available on the market, including those that are specifically designed to be hidden behind mirrors or in walls. Hiding a safe can be a great way to protect your valuables and keep them out of sight.