Clothes Hanger Hidden Safe
Introducing the Ultimate Hanger Diversion Safe - Your Hidden Guardian for Valuables!
Are you tired of worrying about the security of your most precious belongings, both at home and while traveling? Say goodbye to anxiety and hello to peace of mind with our revolutionary Hanger Diversion Safe! This sleek and discreet solution will revolutionize the way you protect your cash, jewelry, important documents, and so much more.
Unrivaled Stealth and Style:
Imagine having a secret hiding spot that nobody would ever suspect - right in the heart of your closet! Our Hanger Diversion Safe seamlessly blends in with your hanging garments, keeping your valuables inconspicuously tucked away. Its clever design is unnoticeable under any hanging garment, especially those with high collars, making it the perfect choice for a truly discreet storage solution.
Secure and Versatile Storage:
With a spacious interior and a secure zippered closure, the Hanger Diversion Safe ensures your valuables remain safe from prying eyes and sticky fingers. The interior pocket provides an additional layer of organization, making it perfect for storing smaller items securely.
An Ideal Travel Companion:
Whether you're jet-setting around the world or embarking on a weekend getaway, our Hanger Diversion Safe is your ultimate travel companion. Keep your cash, passport, and important documents safe and sound, even in unfamiliar surroundings. With this covert safeguard, you can focus on making unforgettable memories, knowing your valuables are protected.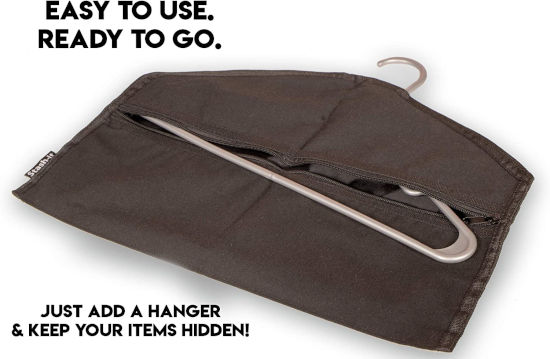 Endless Possibilities:
The versatility of our Hanger Diversion Safe knows no bounds. Store your precious metals, a backup of your essential bitcoin wallet, and any other valuables you hold dear. Medications, sensitive files, and heirloom jewelry - all find a secure home within its hidden pouch.
Peace of Mind Guaranteed:
Rest easy, knowing your most valuable possessions are protected with the utmost discretion and security. The Hanger Diversion Safe lets you maintain your peace of mind, knowing that your belongings are safe, whether you're at home or exploring new horizons.
Get Yours Today:
Don't wait for a moment of vulnerability to strike. Take charge of your security and safeguard what matters most to you. Order your Hanger Diversion Safe now and experience the freedom of having your cherished valuables hidden in plain sight.
Specifications:
Size: 17"W x 12.5"H
Secure zippered closure and interior pocket
Sleek, discreet, and inconspicuous design
Perfect for home and travel use
Holds up to 20LBS!
The hanger diversion safe from Stash-it, allows you to hide up to 20lbs of your valuables without causing any suspicion from nosey roommates, kids, or would-be thieves.
Elevate your security game and invest in the Hanger Diversion Safe - your guardian for precious possessions. Don't compromise on safety and style - order yours now! Embrace the peace of mind you deserve.