Sprinkler Key Hider
Do you hide a spare key outside your home? Make that spot a place a burglar will not find. Only the people you tell will know where the secret key hiding spot is. A key hider ensures you will not get locked out of the house again.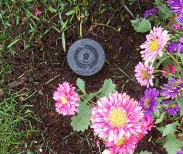 Sprinkler Head is placed into the soil with only the top of it poking through. The top of the key hider unscrews to reveal the secret compartment.
So many people need to leave a key outside of the house in order to stop themselves against locking themselves out or to give other people in the family access to the inside. However, this also means that thieves are constantly on the lookout for these key hiders, and so you must have one that is cleverly designed.
Most burglars will look for the easiest way into your home, and many know all about the key hidden in the flower pot on the porch.
One in six homes today has been robbed and many people were robbed with their very own hidden key.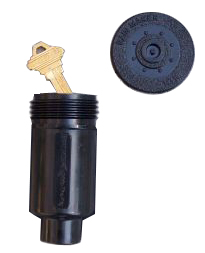 Sprinkler Head Key Hider
According to the FBI, there were over 9 million property crimes in the U.S, and larceny and theft accounted for 68% of all the crimes reported in that year. Burglary, which means unlawful entry into a home, was up to over 2 million cases in 2010. In addition, over 30% of the burglaries did not include forcible entry, which means the thief gained access to the home via an unlocked door or a badly hidden spare key. If you want to make sure your home is safe, but need a spare key, you need to use a clever hiding spot.
Our sprinkler key hider is one of the best ways to hide your spare key, simply because it can be left in plain sight and is such an unlikely place to store a key! You will actually place the faux sprinkler in the ground just like the real thing, and place your key in the removable top. This device is extremely affordable and can be placed almost anywhere outside your house. You can make sure you have access to your extra key, but not anyone else. However, try not to use it in sight of others.
Secrecy is the key when it comes to hiding and retrieving your spare key.
Data indicates that many cases of larceny and burglary come about after the thief has studied your home. In order to keep your home locked up, you need to try and avoid being seen when using your key. If possible, place it in an area out of view of the street or your neighbors, and only use it in a dire emergency. This will help keep others unaware that access to the house is just a few feet away, and can keep you and your house safe from harm.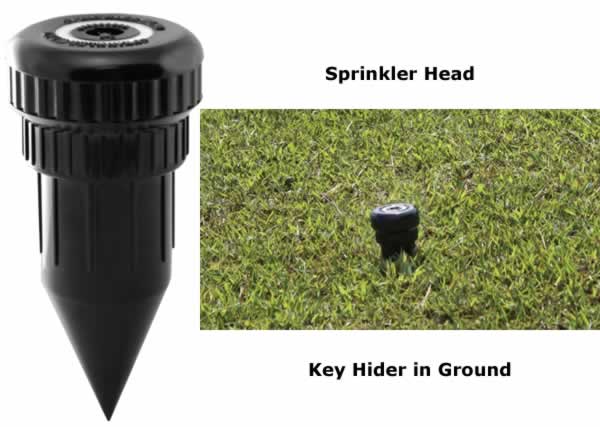 Sprinkler Head Key Hider - Who Would Have Ever Thought?
Nowadays, key hiders are available in all shapes and sizes, which is a good thing because the more variety there is, the more confused and frustrated burglars would be if they attempt to look for your spare key. One of the more innovative designs that have recently arrived in the market is the sprinkler head key hider.
How Sprinkler Key Hider Works
Like many hide-a-key devices, the sprinkler head key hider has a base that you can unscrew in order to hide your spare key in. Afterward, screw the bottom back and you have a sprinkler head that looks no different from other ordinary sprinkler heads.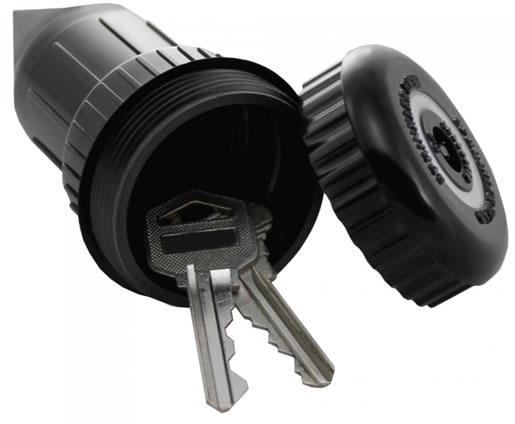 What is it Made of?
Durability is everyone's first concern when it comes to hide-a-key devices. After all, they will be most likely exposed to various weather conditions and wear and tear. Thankfully, the sprinkler key hider is made of tough, commercial-grade PVC plastic. Its base and cap also utilize a highly secure two-piece mold to make sure that your key will stay safely inside until you choose to take it out.
Easy to hide and can be moved or placed pretty much anywhere. Get yours today to always have your spare available. Order now!