Shaving Cream
Every bathroom has a can of shaving cream under the sink or even next to it. Who would suspect that yours actually has a hidden compartment inside? This can is perfect for any home, apartment, dorm room, camper, or anywhere else a male is living.
Heck, even if you don't have a man living with you, a spare can of shaving cream tucked away in the supply closet for guests would not seem out of the ordinary.
Shaving Cream Can Safe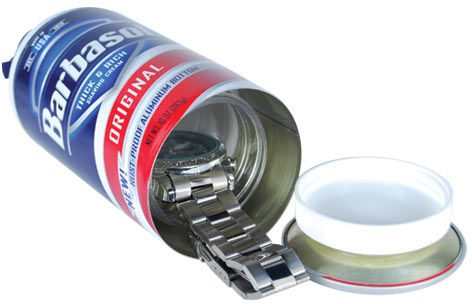 Interior dimensions of safe 1 ¼" x 2 ¼" x ¾"
Barbasol Diversion Safe
Diversion safes are a great addition to a home security plan. Essentially, a diversion safe is a place to hide valuables, hidden inside what appear to be normal household objects.
You can purchase diversion safes in just about any configuration you can imagine, from the above-pictured shaving cream can to clocks, plant pots, even the classic hollow book. While these aren't large enough to store a ton of stuff, they work great for hiding stashes of money, silver, even prescription medications.
Diversion safes allow you to hide valuables in plain sight
What I like about them is burglars won't think to look at these items. When a crook enters a home, he wants to get in and out as quickly as possible. Therefore, he isn't going to take the time to check the workshop shelves for fake cans of brake cleaner. He's working against the clock, hoping to be well on his way in just a few minutes.
For you preppers out there, these are also great ways to hide those stashes of junk silver coins. Just be sure to use non-food types of safes. After a major collapse, raiders might very well want that coffee can and if they later find it has a brick of .22 shells in it, so much the better as far as they're concerned.