Window Vibration Alarm
You need an alarm for your window. Home Security is made easier with these vibration alarms protecting your most vulnerable points of entry. Any bumps or breakage will cause the 100db alert to sound off.
This HomeSafe product is designed to detect unwanted entry. Install on a window and if the window is opened, tampered with or broken, the motion triggers a 100 dB signal. The Window Vibration Alarm comes with batteries and mounting tape and is ready to use, right out of the package!
Easy Installation - Simply mount to window and slide switch to On position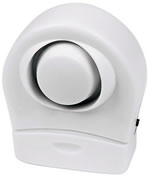 The Glass Guard is an effective low-cost vibration sensor that can be used for securing windows or patio doors. The burglar window alarm is intended for glass entry areas that may be in remote parts of the house...such as bedroom windows. It will notify you by sounding the alert if an intruder is attempting to gain access through a window.
When an intruder is attempting to break-in and the window is hit or is broken, the vibration sensor triggers the alarm.
To set, turn the switch to the ON position. When the glass is hit, knocked or cut by anyone, the siren will sound for 30 seconds and then reset.
This tiny tech wonder is a battery-operated vibration detector designed to detect unwanted entry. 
Supplied with batteries and strong adhesive tape.
Shock alert for doors or windows

Easy installation. No wiring needed

Built-in 100dB high output siren

Easily mounted on door/window by adhesive tape (included)

Dimensions: 2" x 2 1/2" x 1"

Instantly detects any vibration (when the glass is hit, knocked, or broken by anyone, the unit's siren will be triggered for 30 seconds)
Window Vibration Alarm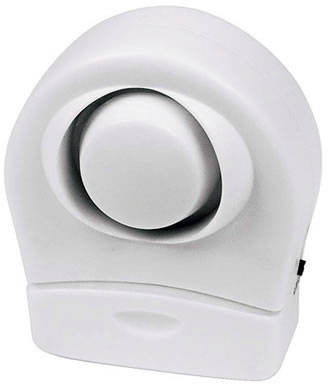 ★This home security alarm is a great addition to your existing system. Simply mount to window and slide switch to the on position to create an inexpensive glass breakage alarm that will alert you to possible danger. Place a window vibration alarm on every window of your home for greatest security and protection. Protects your home from burglars and thieves!
Protecting Your Windows Made Easy
Part of your overall security plan for your home is making it harder or undesirable for a burglar to break in through a window. Windows, aside from doors being unlocked, is one of the most common ways a thief will try to gain access to the inside of your home. Keeping your doors and windows locked will go a long way in helping protect you and your family.
Going an extra step by installing bump detectors on all your windows puts an extra barrier up against a would-be thief or home invader. These types of security devices do their job by sounding off a loud signal whenever someone tries to open or break it. The vibration of breaking the glass or trying to open it causes the noise to sound off. 
Having a vibration alarm go off gives you a warning that someone is trying to break in. This also serves to scare away the intruder. The worst thing for a thief is drawing attention. They do not want to get caught and any loud sounds they cause while attempting to gain access are sure to make them reevaluate if they can get away with it.
Home security is about prevention and actively making your house a harder target. Early warning devices like this are exactly what thieves do not want to come across.