Telescopic Baton
These expandable steel batons expand to either 16 inches, 21 inches, or 26 inches with just a flick of the wrist. You choose which size you want. The 21-inch steel baton is the most popular!
Easily Conceals Until You Extend or Flick it Out!
Telescopic batons fit perfectly on your belt or next to you in your car. A collapsible baton can be easily hidden and quickly extended for immediate use.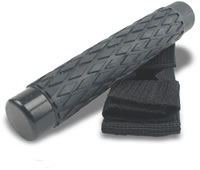 Exploding Devastation in the Palm of your Hand
The expandable steel baton is great for both offensive and defensive techniques you would need to employ in a real-world self-defense situation.
It doesn't take much to get this moving around in very effective techniques you can implement.
The telescopic steel baton comes with a rubber-patterned padded handle for easy gripping and a heavy-duty nylon holster with a belt loop for easy carrying.
The sheath has a hook and loop strap to keep it secure. If you are looking for effective self defense with extra reach, the extendable baton is it.
Expandable Metal Batons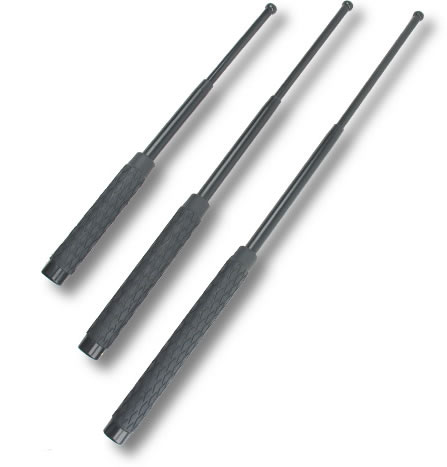 Positive locking system. Once it's out, it's out. It uses a friction lock and will not collapse when you need it extended.
Tip: To close the police baton, strike straight down on an unyielding surface.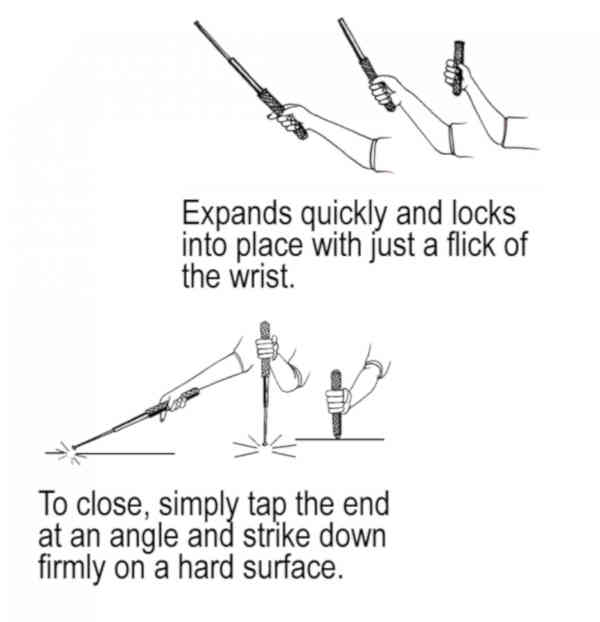 Closed Steel Batons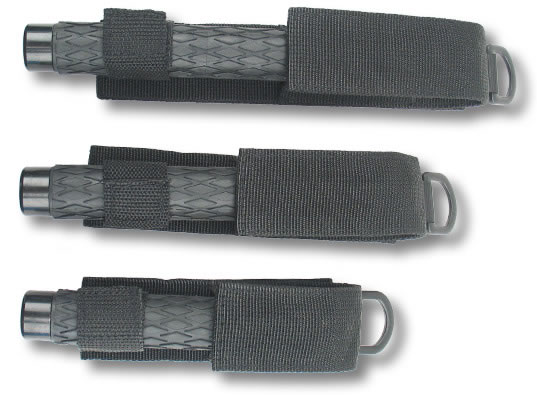 What size collapsible baton should I get?
Different sizes of the collapsible batons are the 16 inch, 21 inch, and the 26 inch. Personal preference would guide your choice as well as your ability to wield the different sizes. Though not a hard rule, the taller you are, the longer the rod you could effectively use.
Telescopic Steel Baton Sizes
Approximate sizes
| Extended Size | Closed Length | Weight |
| --- | --- | --- |
| 1. 16 inch expandable batons | 6 3/4 inches | .86lb |
| 2. 21 inch expandable batons | 8 1/4 inches | 1.05lb |
| 3. 26 inch expandable batons | 10 inches | 1.23lb |

If you aren't sure which size you should get, the twenty-one inch option is the most popular concealed carry choice.
You may want the longer one, so you have further reach, or the shorter one for your particular purpose. You can get different sizes and strategically place them in specific locations.
Keep one in the driver's side car door pocket in case of any trouble while on the road. If anything happens while in your vehicle, you can quickly have an effective portable nightstick to defend yourself.
Watch Video How to Extend and Collapse the Telescopic Baton
Most police officers in the US are issued black telescopic batons; some call it a truncheon in place of the old billy clubs. Many people refer to any baton as an "asp", though the brand ASP® is a registered trademark. The expandable baton has pretty much replaced the old billy club of law enforcement.
They are smaller to carry, easy to employ, and are effective weapons both offensively and defensively. The included baton holder has a built-in belt loop to easily fit on the duty rigs of security guards and other law enforcement personnel. Learn how to use this security baton effectively.
This extends with just a flick. Just swing it straight down, and it will open up to its full length in a fraction of a second. It is ready to use immediately and will help you to defend yourself against an attack and provide for an offensive capability as well.
Retractable Baton Grip
The grip on the retractable baton is made of rubber, is comfortable to hold, and will not slip out of your hand. These grips hold out much better than the foam grips. Looking for an automatic spring loaded baton?