Guard Alaska Bear Spray
Guard Alaska ultra hot bear pepper spray has proven so effective in repelling these animals, it is registered with the EPA as a repellent for ALL SPECIES!
Guard Alaska is one of the most effective and powerful defensive bear sprays available today.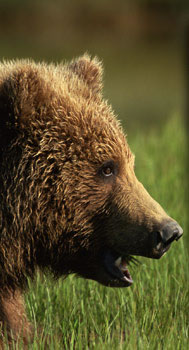 Only EPA-approved bear repellents may be sold as deterrents and have specific minimum requirements that must be met. Guard Alaska has an EPA registration number on its labeling.
You need something you can depend on in the woods. Treat all encounters with extreme caution!
Bear pepper spray is an effective deterrent for stopping and preventing attacks. Carry on your belt so you'll always be ready or set it out at the camp so everyone has easy access to it. Some states now have hunting laws requiring possession.
If you're a hiker in a national forest or any state park or wooded area where these animals are prevalent, you should carry this on your side. An encounter can be averted with no injuries with a simple blast to the face.
9 Ounce Supersize with expanding cloud delivery.

20% OC, 1.34 Capsaicinoid super hot formula

Range of spray: Approximately 15-20 feet.

Dimensions: Height: 8-3/4" x Width: 2"

Includes a safety cap and finger loop handle

Comes with a Bear Spray Holster

An invincible ultra hot pepper spray.

One of the most effective and powerful available today.

This product has proven so effective that it is registered with the EPA as a repellent for ALL SPECIES!

Environmentally safe! It does not contain flammable or ozone-depleting substances.
Six years of extensive testing in the wilds of Alaska.
Don't forget to add bear pepper spray to your packing list!
Probably the most frightening experience with an attacking animal is a confrontation with a bear. If you do come across one, you should obviously not approach it. Remember, you're in his habitat, not yours.
When in bear country, it's common sense to learn how to keep bears away and to also take along some extra protection. This is an effective deterrent to attacks. Treat all encounters with extreme caution. Most will try to avoid contact with you if they can. Try not to surprise them. If you come across one, do not approach it. Slowly back away while watching it.

Bear Mace
Try to increase the distance between you and the animal. If he or she keeps following or approaches you, change direction. If it continues to follow you, stand your ground. Stay in a group if there is more than one of you. Try to scare it off by yelling, shouting, clapping your hands, or otherwise intimidating it.
Make as much noise as you can. Banging metal together or anything that makes a loud noise may deter them. But if not, you need to use your bear mace.
You need to persuade them to leave you alone if you encounter one. If all that fails and you find yourself being approached or attacked, use your repellent.
USE: To use Guard Alaska Bear Spray, pull off the orange safety wedge on the top of the grip. Be ready to spray the bear by pressing down on the actuator button on the top of the handgrip.
Protect Yourself with a Bear Repellent Spray
Spray the bear right in the face when it gets close enough. The spray shoots 15-20 feet and sprays in a powerful expanding cloud so aiming will be easy.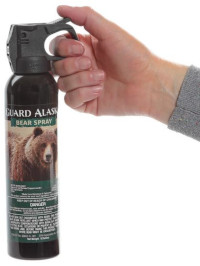 When he or she retreats, get out of the area he was trying to defend. Alert the rest of your party to the location and report your encounter to the appropriate authorities if possible.
This spray is specially formulated and has been tested on all species of bears, and is proven to work. Aside from using a large firearm, Guard Alaska may be your best defense.