Stun Pens have always been favorites for the clandestine type. Having an effective means of self defense while not showing off or giving away your defensive secrets is a major plus!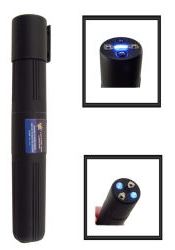 Now, with this much improved upon design with a high voltage capacity, you can have a small and powerful, super charged stun pen at your disposal. You're carrying around a flashlight, but with a shocking surprise! Even better - it's rechargeable - no batteries needed!
Strongest Stun Pen: This is one of the highest voltage* pen type stun guns available. Just test firing this unit into the air is often enough to stop an attacker. As the bright electric current pulsates across the top of the unit it, creates an intimidating electrical sound. An attacker with any sense at all will be stopped in his tracks. If the sight and sound doesn't stop him, a jolt from this stun pen certainly will.
Powerful LED Flashlight: The built-in LED flashlight provides a convenient source of light whenever you need it and eliminates the need to carry a heavy, bulky flashlight. When asked what that is, you simply tell them it's a flashlight. No one needs to know that it's really a stunning device.

Protective Cap and Safety Switch: To prevent the stun gun from accidentally discharging, three levels of safety have been built in. The protective cap must be removed, the safety switch must be in the "on" position, (this will cause a red LED warning light to come on) and the trigger button pressed down.
Holster Included: Although this self defense pen is slim enough to carry in your pocket or slip into your purse, we have included a holster for those who wish to carry it on their belt.
Rechargeable: Comes with a recharging cord that you connect to the chargin gport and to a regular wall outlet.
*Voltage is comparable to other brands that claim to be 2,500,000 volts.
Some states have restrictions on Stun Devices. Check if your state has restrictions here: Shipping Restrictions
Customers Who Purchased This Item Also Bought
Shipping Deal


Receive FREE UPS Ground or US Mail shipping on all orders of $75.00 and up!
*US Residents only
Join Our Mailing List
We send out Specials and Discounts to those on our mailing list.
Your privacy is kept safe.