This camera housing dummy camera looks just like the real thing. Real housing without the camera. If you own a business or want to show some protection for your home, this dummy surveillance camera doesn't leave any question.
Working LED light on this Fake Surveillance Cam
It's obvious and "in your face" and will make a thief think twice about burglarizing your home. Got some vandal kids running around causing mischief in people's yards? They'll skip over yours if they think they're being video taped!
Features a flashing LED, real video cable, weatherproof aluminum housing, and fully adjustable mounting bracket. Installs easily.
Dummy Camera Housing
Large camera housing is obvious - you're not trying to hide anything here!
Put these at entrances, loading docks, corner of building viewing the front or back.
Blinking LED lets everyone know they are being watched.
Features authentic video cable, durable housing and can be used both indoors and outdoors.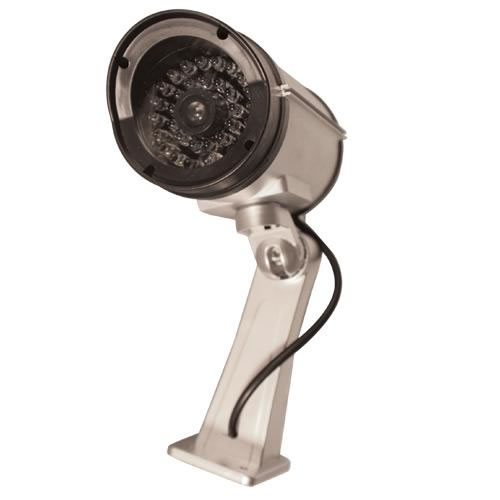 Specifications:
Measures: 6 11/16 x 8 1/4 x 3 1/8".
Operates on two "AA" batteries (not included).
Will operate for approximately six months on one battery set.
Customers Who Purchased This Item Also Bought
Shipping Deal


Receive FREE UPS Ground or US Mail shipping on all orders of $75.00 and up!
*US Residents only
Join Our Mailing List
We send out Specials and Discounts to those on our mailing list.
Your privacy is kept safe.