Fake Security Camera
This is a bullet-style IR fake security camera. It has a constant flashing red LED light.
Its realistic looking can be mounted just about anywhere. It has an easy adjusting bracket so it sets up in minutes.
Affordable Security with Fake Security Cameras
Get the protection your home and family need with this realistic-looking fake security camera. It is affordable, and it really works to deter thieves.
The camera looks just like an ordinary security camera and you can mount it outside or inside. It comes in different colors and designs. When it is installed at a home or a business, it will give any potential thief the feeling that the premises are being watched with sophisticated surveillance systems.
Each camera has a flashing light that works on AA batteries which are not included. It also has a real video cable and a rain shield. It blinks continuously until the batteries run out and is an affordable alternative to the real thing. The mounting bracket is adjustable and makes it easy to install with the included stainless steel screws.
Virtually Indistinguishable From the Real Thing
This is not a model surveillance camera, it is built out of similar material to that used in real security cameras. It is made in the same form as a real camera, too. The camera itself is about 7 inches long and three inches in diameter. The rain shield adds a few extra inches to its overall size but it will fit in any area such as the corner of a roof, near a garage entrance or anywhere else it is most noticeable.
LED lights blink to indicate the unit is on and is operational. These are long-lasting so you will not need to change out the batteries often. Each camera unit is about $15 or less, making this an item you cannot live without. It will help guard your home day and night, especially when you are away on vacation.
Business owners will appreciate its authenticity and its low-cost operation. Once purchased and installed it only requires an occasional battery change.
The batteries are easy to change by just sliding the sun shade off and inserting 2 AA batteries (AA Batteries Not Included).
Specifications: Measures 6 11/16" x 8 1/4" x 3 1/8"
Use with or without the removable Sun Shade.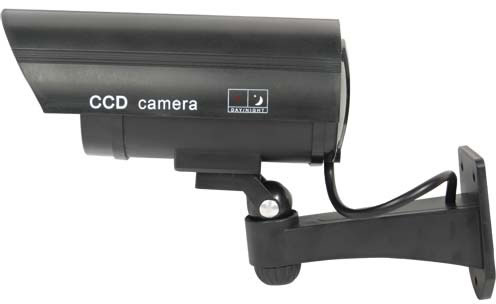 The batteries are easy to change by just sliding the sunshade off and inserting 2 AA batteries (AA Batteries Not Included).
Specifications:
Measures: 6 11/16 x 8 1/4 x 3 1/8".

Operates on two "AA" batteries (not included).

Will operate for approximately six months on one battery set.
Surveillance cameras used in commercial and residential establishments have been a big help in solving many criminal investigations. Because they capture the exact scenario at a certain place and time, they can provide hints that are specific and constructive. However, for the budget-minded, installing a surveillance system may not be within their means.
Dummy Surveillance Cameras
An alternative is a Dummy Surveillance Camera. These are designed to look exactly like the real ones. They do not record video, however, since they do look genuine, they are an excellent deterrent. Time and again, they have been proven to lower the chances of incidents such as robbery, attacks, and vandalism.
These professional security items are easy to install, function with a blinking red LED, and are equipped with a fake power cable to make it even more convincing. The fake surveillance cam is enclosed in a weatherproof aluminum housing so it can be used either indoors or outdoors and also includes an adjustable metal mounting bracket.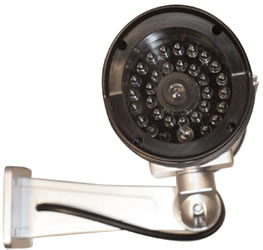 These dummy cameras are inexpensive, which makes them affordable even for those who just want to make some effort to protect themselves as well as the people and things that are of value to them. They may not function like the real ones but they have the ability to nip possible wrongdoing in the bud. The bottom line is that these have a preventive function minus the excessive spending.