Ninja Star Target
This target board is great for your throwing stars, knives, and spikes. Even good for blowgun practice. It is 15.5 inches in diameter.
This ninja target board has two sides to it. You practice on one side and then flip it around to hit the target on the other. Both sides have bulls eyes for that perfect throw.
Start out close to the board if you are just learning to throw. As you gain more and more experience, you can move further back from the practice board. The ninja target board is durable and will last a long time taking many hits.
Shuriken Practice Board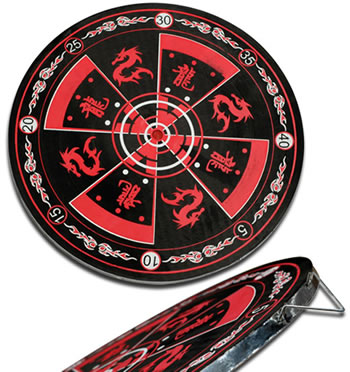 Hammer a nail and hang it up. You can practice your throwing technique pretty much anywhere you have a bit of room such as camping trips, BBQs, or just hanging out. Not weatherproof. Bring inside after use so it doesn't get rained on.
Made of heavy duty pressboard with a dragon design.