Streetwise 3N1 Charger 28,000,000 Stun Gun, Power Bank & Light
One of the most powerful stun guns we have ever tested. Not an exaggeration. This baby is on par with the venerated 775,000 from a decade or so ago!
Combination Stun Gun and Portable Power Bank
This powerhouse combines the latest XPE Flashlight technology with a newly-designed high voltage ignition coil that has increased the brightness of the light and power of the stun gun by over 80%! It's a Stun Gun, a Flashlight, and a Power Bank!
Just test-firing this powerful stun gun into the air is often enough to stop an attacker. If the sight and sound of the powerful electric charge doesn't stop him, a jolt from this unit certainly will!
The 3N1 Charger features a Large Capacity 5200 mAh Power Bank that will charge your cell phone (Android or iPhone) nearly two times. This unit will charge any USB-powered device - tablets, camcorders, games, etc.
The 180-lumen XPE LED light can shine for up to 12 hours on a single charge.
High Voltage Ignition Coil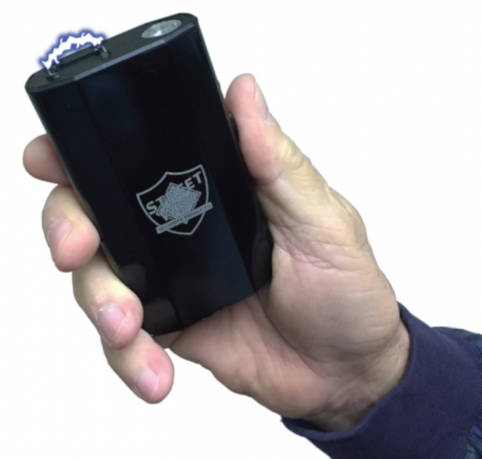 Because of this improved technology, the debilitating output is second to none. If you want a reliable stun gun but do not need a power bank, this is still the one to get. The strong electrical discharge is not matched in any device we have seen in a very long while. You will not find a more forceful self defense stun product. The juiced-up electronics in this particular model make all the difference!
Power Bank to Recharge
This model appears to be a common power bank. By the time an attacker realizes it is a stun gun, it will be too late. This gives you the element of surprise often needed to defend yourself.
Military Grade aluminum alloy protects the Charger from damage so it is always ready to protect you.
The removable cap covers the stun button and the stun contact area, concealing the stun gun features until ready for use.
The 3N1 Charger has an LED Battery Status Indicator - the four LED lights will indicate the power is at 100%, 75%, 50%, or 25%, so you will never be caught off guard without power.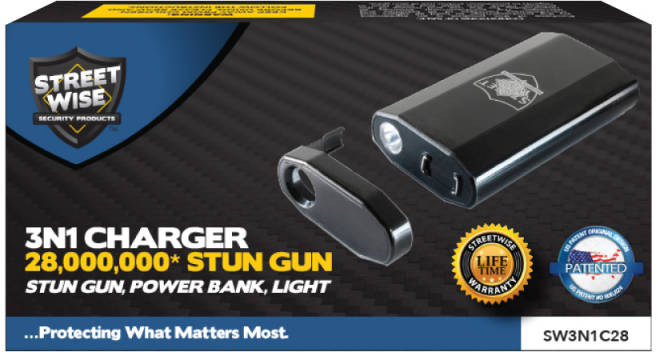 The built-in battery charges in a standard wall outlet. Rugged and heavy-duty nylon holster with belt loop is included.
Lifetime Warranty: The 3N1 Charger is made of the highest quality components and comes with a lifetime warranty. See the enclosed instruction sheet for complete details.
Features:
Powerful Stun Gun

US Patent No. US D806,824 S: There is no other stun gun like this in the world.

Large Capacity 5200mAh Power Bank

Bright LED Flashlight

Discreet Design

Shock Proof Exterior

LED Battery Status Indicator

Removable Stun Cover

Safety Switch

Lifetime Warranty

Rechargeable
Contents:
Streetwise 3N1 Charger 28,000,000* Stun Gun, Power Bank & Light

USB Charging Cable

Instructions