Security Guard Package
A Security Guard would want to be able to fend off multiple attackers. In this special package, we've put together a stun gun, two defensive sprays, and your choice of size of an extendable baton. The powerful stun gun is also a high lumen flashlight that you can use as you go about your rounds. If the need arises, you have a surprise shock that they won't be expecting.
Covert Stun Gun

Pepper Spray is also good for multiple attackers. If you are charged at, you will need a barrier between you and the offenders. Large size defensive spray is best for this purpose. You can temporarily blind and cause very difficult breathing to anyone sprayed with Wildfire 4oz or 9oz pepper spray. The super hot formula makes this defensive spray one of the hottest and most effective pepper sprays available.


A telescopic steel baton is also a must-have. Good for both offensive and defensive measures. You can defend yourself from a distance and strike very effective blows in the process. These expandable batons come in lengths of 16, 21, and 26 inches and have a solid rubber grip.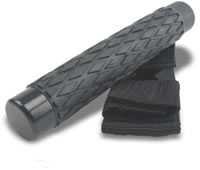 We've put together a special deal page just for security guards. Your specially selected package comes with a covert flashlight/stun gun, both the 4oz and the 9oz Wildfire Pepper Spray, and your choice in size of the Telescopic Steel Baton.
Security Guard Package
Designed especially for Night Watchmen!
The regular cost for these items, if purchased separately, would be $132.65.
On this page only, you can get this security guard package for only $99.99. A savings of $32.66. Plus shipping is free.
Baton comes in 16, 21, or 26 inches in extended length. Includes Holster. Choose your size.
Security Personnel vs Police Officers
It might be surprising to know that the number of security personnel in the country is far higher than the number of police professionals. However, if you think about this fact for a while, it seems almost obvious that this should be the case. With increasing levels of crime and the fact that crime seems to be all-pervasive, there is only a higher need to have security guards who can deter crime (sometimes by merely being present). The demand for security guards is on the rise since there are security guard jobs in various places. Today one finds security personnel at retail outlets, schools, offices, universities, banks, large events, and even apartments.
Security Guards
Sometimes, a security job can seem to be boring and tiresome since the focus is on prevention. It is not like solving a crime or uncovering a mystery. However, it is important for all to understand that it is the presence, awareness, alertness and quick decision-making capabilities of several security guards that have averted many major attacks or crimes. These, unfortunately, do not seem to get the kind of media attention and recognition that crimes that have been successful do!
The role of a security guard is actually extremely important because a security guard comes into action even before a crime is actually perpetrated. Basically, a guard is expected to observe keenly, identify, preempt, deter and report crime of any nature. With higher demand, there are various training companies that prepare candidates for a security guard job. These companies train candidates on aspects like identifying dubious characters, preempting signs that imply possible larceny or theft, good judgment, delaying tactics and protocol and legal issues associated with the job.
A key part of security guard training is in the area of self-defense. The reason why self-defense is so important for a security guard is because of the fact that most do not carry guns. And the job requires a fair amount of caution since the security guard has a high probability of being confronted by an aggressor. And to cater to these needs, there are various self defense products that are available specifically for security guards so that they can carry out their duties with self-confidence and efficiency. Some of the products that are used extensively these days are pepper sprays, SAP gloves, and extendable batons. These products can help security personnel to carry out their duties effectively.