Your order is processed and shipped on the very same or next business day. You will receive a tracking number once your order ships letting you track your package on its way to you.
For orders $50 and above
Flat rate of $4.99 - $7.99 otherwise
Most orders ship US Mail
USPS and UPS Deliverabilty
Description
The Kohga Ninja Four Point Throwing Star is constructed of durable 440 stainless steel. The blades of the throwing star measure about one inch with overall length of 4 inches.
Kohga Ninja Shuriken
The center of the throwing star is engraved with "Kohga Ninja" and Japanese kanji. The overall diameter of the throwing star is four inches.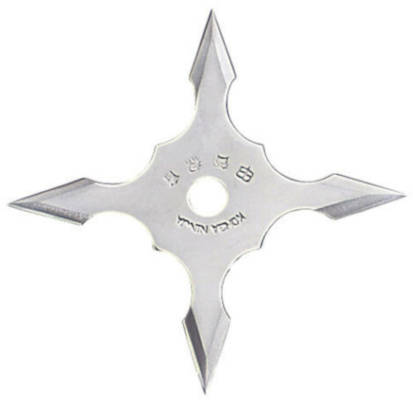 Juji Shuriken (Cross)
This is a well-balanced throwing star that will give you hours of outdoor enjoyment. The juji shuriken comes with a nylon carrying case with a belt loop.
Juji throwing stars, with their long blades are meant to penetrate deeply into the target. They are also known as cross shuriken as their points go out in four directions.