Manji Throwing Star
4", 3 Point Stainless Steel Throwing Stars 3 Pc w/ Nylon Sheath.  You get three of these curved bladed stars with this set.
Manji Shuriken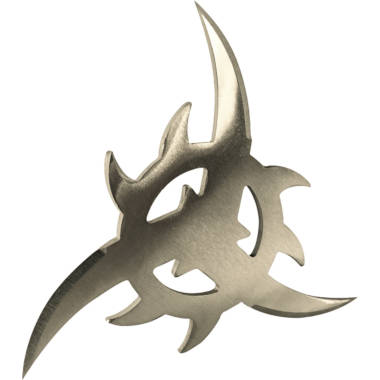 Manji Shuriken are characterized by their curved blades. Though not designed to penetrate deeply into a target, they are devastating in the damage they can inflict.
Shurikenjitsu, or the Japanese art of throwing blades, is a captivating, fun, and popular sport enjoyed around the world. Many backyard get-togethers include some form of activity to get everyone engaged and doing something as a group.
Setting up a target board to stick bladed weapons into is becoming more and more popular here in the United States. Why not pick up a set or two of ninja stars for your next gathering of family and friends?
Everyone will enjoy the excitement of trying to get their ninja stars to stick. The team with the most sticks and closest to the center wins!