Caltrops
No matter how they land, there is always a sharp edge pointing up. Ninja caltrops were used to stop or slow down a pursuing enemy. The ninja would toss them on the ground they had already passed over. 
The pointed metal spikes cause injury to the bottom of the feet causing the pursuer to stop and tend to their injury instead of continuing the chase.
A caltrop is a four-pronged iron spike weapon crafted so that one prong faces up no matter how the caltrop comes to rest.
Caltrops or Makibishi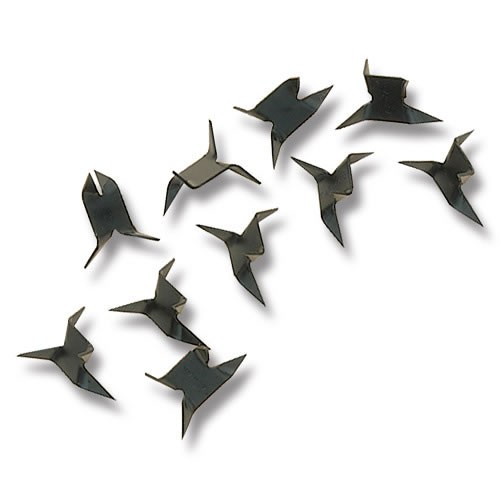 How are caltrops used?
Caltrops are small, sharp objects that are used as a defensive measure against enemy forces. When scattered on the ground, they create a barrier that is difficult to cross without a foot being injured. Caltrops have been used since ancient times, and their use has been documented in many different cultures. One of the earliest recorded uses of caltrop was by the Roman general Scipio Africanus during the Second Punic War.
Under different names, these area denial devices were used at least as far back as ancient Greece. It is said that Darius used caltrops against Alexander the Great in a battle in 331BC. The Romans also used a version of them and placed them on the battlefield to disrupt and render useless the enemy's chariots. They were even used during both the World Wars of the 20th century.
In Japan, they were called Makibishi and were used by both the ninja and the samurai. By spreading them around their fortifications, the Japanese samurai were able to add a layer of defensive capabilities.
What are Caltrops Used for Today?
Caltrops are still used in modern times. A form of this type of device is used by law enforcement to stop a vehicle. Kinda similar to barbed wire, when vehicles roll over the strip of wire-connected spikes, it causes tires to puncture. This tire trap abruptly slows the vehicle and allows the police to stop them.