Happo Shuriken
8 Point Ninja Star
Stainless steel throwing star. 4" across. 8 points.
It comes with a black ninja throwing star case with a belt loop for easy carrying and measures 4 inches across.
Happo Shuriken
This happo shuriken has a good weight and feel to it.  The multiple points make it easier to stick to targets.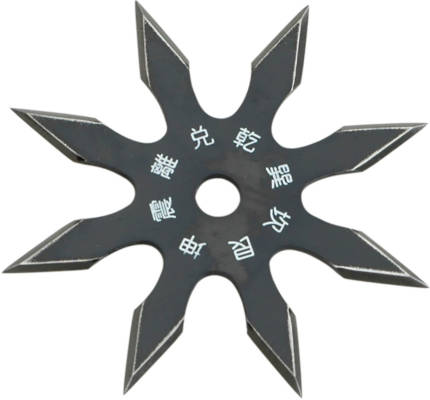 Happo Shuriken are distinguished by having a higher number of blades, typically 6-8, and are heavier than those with fewer protrusions. The weightier they are, the more of an impact they have when hitting the target. With more weight, there is also less influence from aerodynamics, and they can therefore fly straighter and truer than the lighter mini throwing stars.
This particular 8 point star has been very popular when we have them in stock.  Unfortunately, our supply of these doesn't last long. Get yours now while you can.
Unique design of a throwing star. Perfect Point Ninja "Shuriken of Fate"