See our full line of Fake Surveillance Cameras here: Dummy Cameras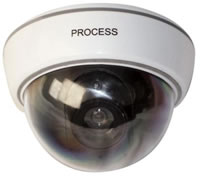 Own a store or office? Away from your business often and need something inexpensive to "keep an eye" on employees and customers? We have just the thing! Since this Dummy Dome Surveillance Camera looks like the real thing, no one will ever know it's fake. Even up close it looks like there is a real camera in it. Within minutes, you can mount this fake dome surveillance camera to your ceiling using the included mounting bracket.
Why spend hundreds on a confusing hard to install surveillance system, when this inexpensive dummy dome camera can give you the peace of mind you need?
You may never have to worry about theft, vandalism or employees not doing what they are supposed to ever again.
This dome surveillance dummy camera looks just like the real thing. Real camera housing without the camera. Includes metal mounting bracket. Installs easily using stainless steel screws.
These dummy cameras are great for small business offices, realty offices, gift shops and the like. These fake dome cameras are similar to the real ones you see in large department stores and shopping centers, at a fraction of the cost! Before you shop around for the real thing...try a Dummy Dome Surveillance Camera first...or even a few!
•DM-WHTCM Dome Dummy Camera
Specifications:
- Base measures 5 7/8" across and the dome is 3 1/2" high.
- Requires 3 AAA batteries (not included)
You may also be interested in these Dummy Cameras
Shipping Deal


Receive FREE UPS Ground or US Mail shipping on all orders of $75.00 and up!
*US Residents only
Join Our Mailing List
We send out Specials and Discounts to those on our mailing list.
Your privacy is kept safe.