Throwing Knives with Leg Sheath
Whether you are new to knife throwing or have been practicing the art for years, our throwing knives with leg sheath are a perfect choice. Our six-piece set comes with knives that have an overall length of 6 1/2" with stainless steel blades that measure 4 1/4". Cord wrapped handles offer superb grip and our unique leg sheath puts your throwing knives in easy reach.
Set of 6 Throwing Knives with Leg Knife Holster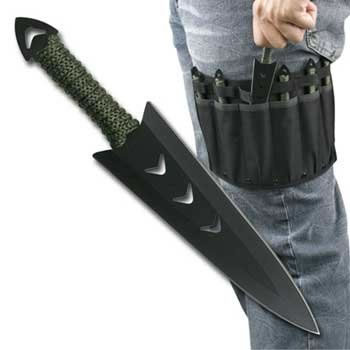 Balanced blades mean your throw is more accurate, and a nylon sheath provides safety as you are transporting and wearing your throwers. As with all of our products, your safety is foremost in our mind. With that, we would like to take a moment to remind you of throwing knife safety. Here are tips to follow:
Make sure that unless you are throwing your knife as a means of self-defense, no people should be near you when you are throwing. Practice in an area that is free of adults and children and remember to keep your practice area clear of pets and livestock.

Set up your target in an area that is free of anything that could be struck by a poor throw. This means that you should not have your target set up against your house, flammable containers, or vehicles. If an item could be damaged by a throwing knife, it shouldn't be near your target.

Stay aware of your surroundings. It can be easy to get caught up in what you are doing and lose yourself in the zone. This could be a very serious mistake. Always pay attention to what is happening around you while you are throwing.

Make sure that you know how to throw a knife as they aren't toys. You can easily find videos and tutorials online. You want to be sure that you study the proper technique before you throw a single blade.

Never throw your knives while you are barefoot or wearing soft-topped or open-toed shoes. Boots or leather tennis shoes are a must if you are going to be throwing sharp objects. If you believe that your footwear could be punctured by a dropped or misthrown knife, change your shoes to a pair that is more suitable.

Your knives will have burrs after repeated throwing sessions. You can remove these burrs with a metal file and pull splinters off with tweezers. Keep these things with you as well as a dry cloth to wipe your hands and knives clean while you practice.

Always take what you are doing seriously. You are handling potentially dangerous weapons and it is a responsibility you shouldn't take lightly. Never point your knife at someone in a threatening manner and do not take aim at something if missing it could cause injury to a person or damage property.

Let people know that you will be throwing knives and where you will be throwing. While it is certainly up to you to make sure your area is clear of people, it only takes seconds for someone to wander into your path and an avoidable accident can occur.

Practice often. The more you practice, the more accurate and consistent you will become. Someone who is skilled with knife throwing is much less of a hazard than someone who only throws every now and again.

Choose the right target. If you are a beginning thrower, look for or construct a target made of soft wood. Your knife is more likely to penetrate pine than it is to stick in oak. A softer target reduces the chance of your knife bouncing off.
Knife throwing can be a hobby or a sport depending on how you approach it. With the right knives, equipment and safety practices in mind, you can become a skilled thrower sooner than you think.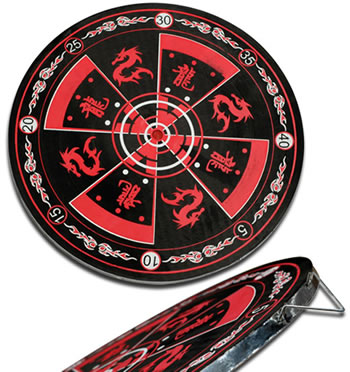 Order your throwing knives with leg sheath from TBOTECH today. When you choose our company, you receive a 100% satisfaction guarantee, high-quality products, exceptional customer service and a safe shopping experience. You can rest assured that we aren't satisfied unless you are and offer 90 days money back if you aren't happy. We are here for you and welcome any questions or comments. Reach out to our friendly customer service team today to place your order or for more information about any of our self defense products such as this double edge boot knife.