Police Mace Triple Action
Same size model used by law enforcement personnel. The Police Model is the original Mace Police Spray utilized by law enforcement personnel and civilians for more than 20 years.
The advantage of Triple Action police pepper spray is that you don't have to hit a target directly in the face. Even if you hit them in the chest, the tear gas will affect them.

Triple Formulation:
OC pepper: That causes the eye to slam shut and uncontrollable coughing and choking.

CN TEAR GAS: causes profuse tearing, an intense burning sensation to the face, and disorientation.

UV Dye: marks the assailant and may aid in identification once apprehended.
Mace Defense Spray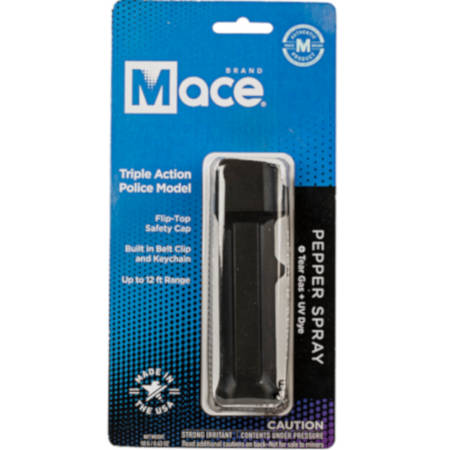 Features:
Flip-top safety cap
Finger-grip dispenser
Tear gas enhanced pepper spray with UV marking dye
12 ft range
Durable housing with clip and keychain
Made in the USA
Contains 10-20 short bursts.
Item 80812
Some states have restrictions on Pepper Sprays. Check if your state has restrictions here: Shipping Restrictions
Mace Self Defense Spray – Get One For Your Protection
Nowadays, crimes are truly prevalent in every part of the world. It's so astounding that various stories of violence and attacks really made people a lot more concerned about safety and protection not only for themselves but also for their families. It's really hard to determine how and when these vicious criminals will strike their victims. What's even harder to know is who they will attack next. It could be anybody; you, your friends, or your family.
This is why having a pepper or mace self defense spray has been a necessity for many people so they could have peace of mind knowing that they have a tool that they can utilize to protect themselves if a situation arises. Most people have been keeping a mace self defense spray inside their homes and another one wherever they may go.
Among the many self-defense products that are available in the market, mace sprays are of the most popular ones. The reason is that they are easy to use and are very handy which makes it convenient to conceal and carry. Especially for women, these sprays are usually attached to key chains and even on lipstick tube canisters.
Protection Mace
Contrary to most beliefs, mace and pepper sprays don't necessarily have to be aimed at the eyes of your target for them to work. Although getting the contents of these sprays in the eyes of a person can cause the eye to tear uncontrollably which can even lead to blindness temporarily, inhaling its content also poses serious discomfort. It provides you with a few seconds of opportunity to run away from your attacker and seek help. It has saved a countless number of lives from very bizarre situations.
It's pretty easy to find and purchase these types of sprays in the market. Mace Police Spray is available almost everywhere, and you can even purchase a variety of them on this website. They come in a variety of sizes and models for you to choose from depending on your preference.
Keep in mind that you should always prioritize your safety above anything else. Although you have self defense tools that you can utilize when you're being attacked by criminals, fighting against them isn't always the best option. Spray and get away. Find help and report the incident to the police.