Boot Knife
A double-edged boot knife is a type of knife with a blade that is sharpened on both sides, which makes it useful for self-defense and other purposes. It is typically designed to be compact and easy to conceal and is intended to be carried in a sheath that can be strapped to the wearer's boot or ankle.
Double Edge Boot Knife
The double-edged blade design allows the knife to be used for both stabbing and slicing, making it versatile for a range of tasks.
The Tiger USA boot knife is a high-quality and versatile knife designed for self-defense, survival, and outdoor use. With its compact and lightweight design, it's easy to carry and conceal, making it an ideal choice for everyday carry or for use as a backup weapon.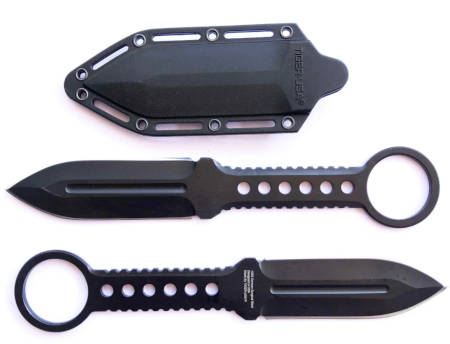 Boot Knife Features:
Tactical Knife Double Edge Dagger Blade + Slim Sheath
Stainless Steel
Blade Length:4.25''
Spear Point
Overall Length:8"
Weigh 4.40 oz
The knife features a 4.25-inch double-edged spear-point blade made of durable 1065 German Surgical Steel, ensuring long-lasting sharpness and reliability. The blade has a black finish, which gives it a sleek and tactical look while also helping to protect it from corrosion and wear.
The knife's overall length is 8 inches, weighing just 4.40 ounces, making it easy to handle and maneuver. The handle is designed for a secure grip, with a textured surface that ensures a firm hold, even in wet or slippery conditions.
The Tiger USA boot knife comes with a slim and durable sheath, which can be attached to a boot or worn on a belt, allowing for easy access and quick deployment. Whether you're camping, hiking, or simply need a reliable self-defense weapon, the Tiger USA boot knife is an excellent choice that won't let you down.
One unique aspect of boot knives is their design, which is specifically intended for concealed carry. The slim and compact design of boot knives allows them to be easily worn on the ankle or inside a boot, where they can be concealed from view and quickly accessed if needed.
Another unique feature of boot knives is their versatility. While they are often used for self-defense or as a backup weapon, boot knives can also be useful for a variety of outdoor tasks, such as cutting rope, preparing food, or even building a shelter in a survival situation.
Boot knives are often chosen for their discreet and concealed nature, which allows users to carry them without drawing attention or causing alarm.