December is a wonderful time of year! Lots of different holidays are being celebrated, families move around the country so that they can get together, and the cash registers ring merrily with the sounds of all those booming sales. The downside of December? Well, that would be the increase in crime rates. From crimes of opportunity, to thieves targeting the increase of new goods in homes, December can be destroyed forever if you become a victim of crime at this time of year.
Females who are living alone, or who are moving around alone at night are more likely to be targeted by those criminals who are opportunitsts. But, if you live in one of the 42 states where a disguised stun gun is legal, then you can take a stand to fight back and protect yourself.
Disguised stun guns are not considered to be a firearm in 84% of the United States. You can purchase one as protection for yourself provided that you have no recorded felonies, you are over 18 years old, and you only intend to use it for self defense. Some states have legalized the use of stun guns, but they can only be kept in the home. Others regulate that you must obtain a permit to carry a concealed weapon before you can take the stun gun out with you. Your first step before buying one is to find out exactly what your state requirements are.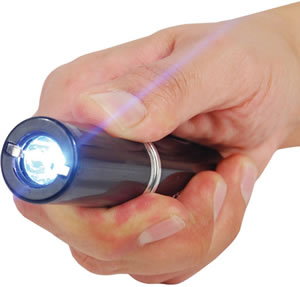 Once you know the legalities of purchasing this device for your protection, you need to decide on which design would suit you best. One of the best things about the disguised stun gun is that you can carry it on you, or in your handbag (provided your home state allows this), and it is not immediately obvious to a criminal that you have a weapon on you. Your design options include a replica smartphone, a pen, a small flashlight, a lipstick, or a perfume atomizer. Looking into your bag, none of these items are going to raise any suspicion at all.
If you've not seen a stun gun in action before, rest assured they provide quite the punch that can get you out of a sticky situation. Because it is so small, you can carry it safely in your hand while you are walking back to your car alone at night. Anyone who is silly enough to attack you? Well, slip the safety switches and press the gun against your attacker for up to five seconds.
The voltage that will then bite into the skin of the criminal will incapacitate them for up to ten minutes. While they will not be permanently harmed, they will experience confusion, disorientation, and a loss of muscle control. This gives you the opportunity to get away to safety, and then to ring for police help. Additionally, some stun guns come with an inbuilt flashlight which can be used to further upset your attacker as you use that to temporarily blind them.
In every self-defense class you are taught that if you can fight back using an element of surprise, it is possible to get away from your attacker unharmed. This stun gun will help to give you the element of surprise that you need, and you can feel confident that even when you are moving around on your own at night, that you will not become a victim of crime.
One final note of warning, if you do decide to keep this protection in your bag 24/7, do remember to remove it before you get on the plane for your next travel adventure. Otherwise, you could have some explaining to do with the TSA.