Door Window Alarm
The Door and Window Alarm with Deactivation Key is an effective product that protects your doors or windows. When a door or window is opened, an alarm will sound alerting you. This unique model can only be turned off with the deactivation key.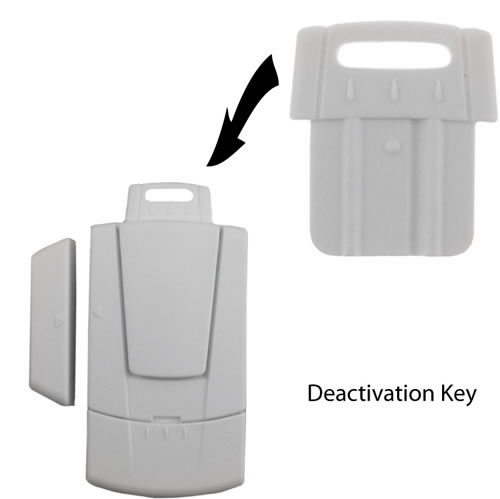 This simple device can be used around the home to alert you to unauthorized entry (or exit). It can also protect cupboards, cabinets, even drawers where you want to make sure a child isn't getting into or going where they shouldn't.
Door Window Alarm (even for a sneaking out teenager)
The 105-decibel alarm lets you know that a door or a window has been opened. Use these wherever you want additional security such as on all ground floor openings.
The Door/Window Alarm with Deactivation Key installs quickly and cleanly without any drilling or wiring.
Just install the main unit and the magnetic bar on the frame of the door or window, using the powerful adhesive tape. When the door or window is opened, the alarm will emit an intense 105dB siren.
This is a very economical way to keep someone out of someplace you don't want them to be, or alert you to their presence. Batteries are included.
Triggered by entry opening and/or window opening

Slim design for sliding window compatibility

Quality protection with style

Loud 105 decibel alarm

Prevents your teenage kids from sneaking out unnoticed
Have a problem with an adolescent leaving when they aren't supposed to?
As parents, all too often we feel like we have absolutely no control over what our teenagers do. They have reached that age where they feel they deserve their freedom and they will get it one way or another - even if they have to sneak out of the house.
Are your children guilty of sneaking out of their bedroom window? Have they even braved the front door?
What can you do to prevent your teen from sneaking out?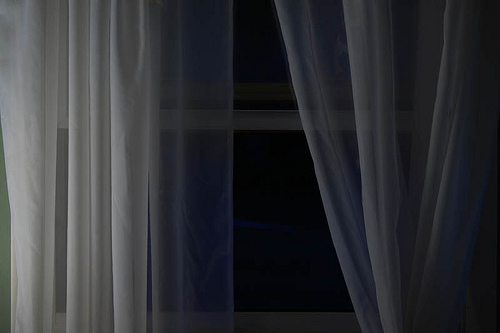 Having a talking to hasn't worked, and not even being grounded seems to help. Maybe for a week or two…but then, there they go again. Expressing concern for their safety is of no effect. The consequences are worth the fun.
Unfortunately, short of installing security bars on your windows, and pad-locking all the doors, there's not a whole lot you can do to keep them from sneaking out at night.
Is a Window Alarm Right for You?
There are many inexpensive door and window alarms on the market today. The problem with most of these is that they are meant to sound off when someone is entering the house. They have on/off switches and are too easy for your teenager to just turn them off before slipping out. When they return, they can just turn them back on again.
All the while, you are "left in the dark". What about an alarm that works when the window is opened from the inside?
Prevent your Kids or Teenager from Sneaking Out
There is a solution to this ever-growing problem. A Door and Window Alarm with a deactivation key. Because this wireless alarm is self-contained, you are able to arm and disarm the unit with the key. The inexpensive price comes in handy when you need to cover several windows and doors that are being used for a swift escape.
Our brilliant customers have also found another use for this particular safety device:
TIP: Super Glue the battery compartment shut so it can't be disabled.
(Note: You'll have to replace the alarm when the battery runs low if you glue the compartment closed)
Hopefully, you'll have the issue resolved before too long.
The Door or Window Alarm can be placed virtually anywhere extra security is needed; around the house, in your boat or RV, in a dorm room, or garage, the security possibilities are endless!
How Magnetic Door Alarms Work
When you install a magnetic door alarm to any door in your home, it will emit a shrill sound every time the specified door is opened and it will only cease when the door is closed. Burglars and vandals are sure to flee your home immediately when they realize that the alarm has alerted home occupants to their presence.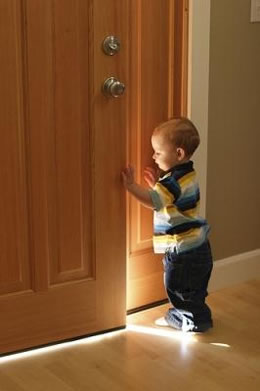 Quick and Easy Installation All you need is double stick tape and your magnetic door alarm is ready to act as your 24/7 bodyguard. Make sure, however, that the distance between the sensor and the magnetic door alarm is no greater than half an inch.
Benefits of Magnetic Door Alarms
Here are several reasons why these make an ideal home security device.
Affordable Why spend so much money on other home security devices when you can get the same result?
User-Friendly They are very easy to operate. It comes with a on-off switch for instant activation and deactivation.
Discreet Design Unlike other home security devices, these do not stand out like eyesores in an otherwise beautifully decorated room. They are not that much different from wall-mounted switches in terms of appearance. When you install them on top of the door, they might as well be unnoticeable. They'll also be out of your children's reach, which is a good thing because they won't be able to accidentally deactivate the alarm.
How Magnetic Door Alarms Can Help You Besides deterring potential intruders, they can also protect your loved ones – especially if you have children at home – from other dangers.
Prevent Entry through Windows Magnetic door alarms may also be used on windows, another commonly used entry point by intruders. You can place them on top of the window and cover them partially with blinds or curtains to hide them from view.
Protect Individuals with Special Needs or Disabilities Elderly loved ones suffering from Alzheimer's, children with special needs, and other similar cases require constant supervision. There may be times, however, when your attention strays even for the shortest moment. Unfortunately, that's long enough for them to go missing. Don't wait for this to happen. Use magnetic door alarms to alert you when your loved one attempts to leave the safety of your home.