Pink Stun Gun - Lady Life Guard 16,500,000
Once you experience how good our rubberized unit feels in your hand and compare the electrical charge you will be shocked by the difference!
The Lady Lifeguard
In the midst of the rising tide of violent crime, you can trust the "Lady Life Guard" to protect you! This hot pink stun gun is loaded with great features and packs a powerful punch! Its ergonomic design makes it a favorite among women because they can wrap their hand completely around the rubberized unit for a firm grip that feels natural in your hand. It features a bright LED light, a disable pin, slide-out charging plugs, and an extremely strong stun.
High Voltage Hot Pink Stun Gun
This power-packed pink stun gun flashlight uses new cutting edge micro-technology to deliver a disabling shock carried by high voltage. While most stun guns have high voltage, this baby boasts more pink electrons that render it more effective than others. It's the amperage that essentially counts and the Lady LifeGuard carries 4.5mA which is pretty impressive.
A woman's stun gun that she'll be proud to carry. After all, that's what you want. For her to carry something she can use to protect herself. And since this is stylish (we did say pink, right?) it'll still be girly enough that she takes it with her.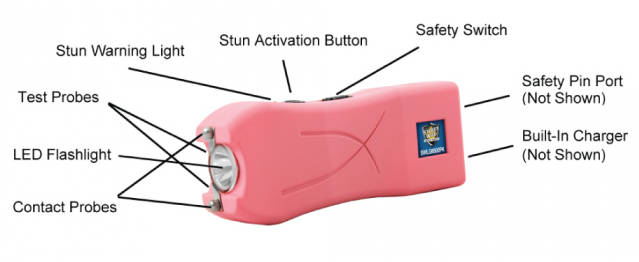 Comes with a FREE nylon holster and the internal batteries are rechargeable so its ready to use as soon as you charge it. With a fully charged in your hand, feel the power wash over you from the confidence boost.
Built-in LED FLashlight

Disable Pin Wrist Strap - Prevents an attacker from taking this stun gun away and using it on you.

Rubberized Coating

Lifetime Warranty

16.5 Million Stopping Power

FREE Nylon Holste

r
A similar model is available in other colors.
Some states have restrictions on Stun Devices. Check if your state has restrictions here: Shipping Restrictions