Self Defense Kit
Specially put together to save you time and money, these self defense kits combine the elements of a stun gun, a pepper spray, and a personal alarm. Used separately or in conjunction with each other, you or a loved one will stand the best chance of escaping an attack.
Package #1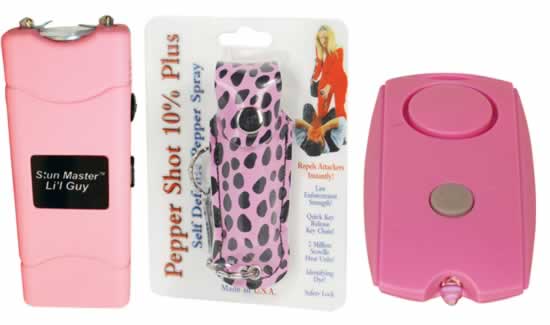 This women's self defense kit combines the power of the Lilguy stun gun with a 10% pepper spray and a loud personal alarm. Presented in pink colors that show off your style while maintaining a formidable defense against attack.
---
Package #2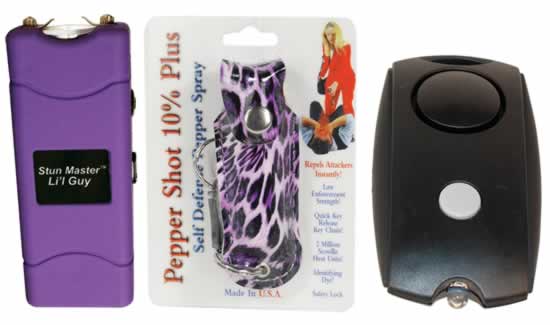 This next self protection kit is nearly identical to the first with the change being the color of purple. The Leopard print pepper spray is also in purple while the keychain security alarm is in black.
---
Package #3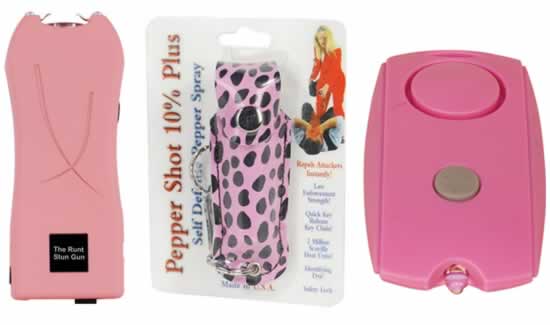 While all of the packages are a perfect self defense kit for purse, number 3 includes the nearly infamous Runt stun device. It distinguishes itself by possessing a 20 million volt shock and includes a disable pin. The disable pin prevents an attacker from taking it away from you and then using it on you.
---
Package #4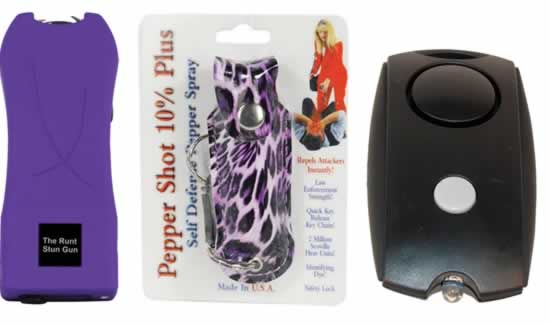 You'd be hard-pressed to come up with a better combination of non lethal self defense with any of the options on this page. This Purple Runt combo has the flavor of purple in both the stun gun and the OC spray while the women's personal alarm blends together perfectly with its black hue. Choosing your own self defense package is a matter of taste and preference and number 4 is an excellent choice.