Mini Personal Alarm
When activated, it begins to emit a very loud call for help that will let people know you are in trouble. Loud noise is exactly what the bad guy doesn't want. The person giving you trouble may decide to leave the scene before he gets caught.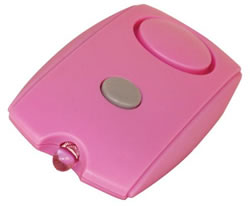 This easily activated alarm will emit an ear piercing 120dB alert that will send your aggressor fleeing for the confines of a soundproof room.
You can deactivate this personal protection alarm just as easily as you activated it, with the click of a perfectly located button.
So small, it fits easily in your pocket, purse, or can be clipped onto your belt, lapel, or pocket.
It can be attached to a key chain, or simply held in your hand.
This attack alarm also has an LED flashlight you can use with a push of a button. Use to guide your path or shed light on a keyhole while entering your home.
Any way you chose to carry it, it will be nothing but beneficial to your safety. Uses 3ea replaceable AG13 batteries (included).
Mini Personal Alarm with Clip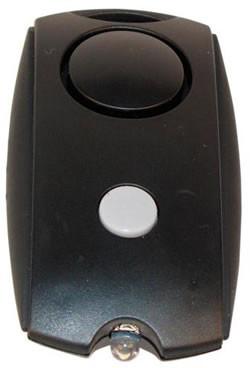 Dimensions: 3" x 1 1/2" x 1/2"