Pepper Shot 1.2% MC 1/2 oz Halo Holster Leopard Black/Orange
With the same formula you've come to know, Pepper Shot has just added a new holster design! The Leopard print holster with this pepper spray gives you your sense of fashion back.
Now, you can not only have positive protection against an assailant, you can also be fashionable while you are carrying your self defense spray.
Leopard Print Pepper Spray
This is the same OC formula that has made it a number one choice in personal protection. One blast of this in a person's face and they will want nothing more than to find a bucket of water - FAST!
Different from tear gas, a true "pepper" spray can not be fought through. It's designed to inflame the capillaries in the eyes, nose, and throat & immediately stop someone from what they were doing.
If you live in a bad area or have any chance of being mugged, robbed, or worse, having pepper spray handy is the best and least expensive way to guarantee your safety.
Keep it on your keychain where it will always be with you. This model also has a quick release to take it off your keychain if you need to. Tuck it in your purse, keep one in the car - wherever you can easily access it to protect yourself with.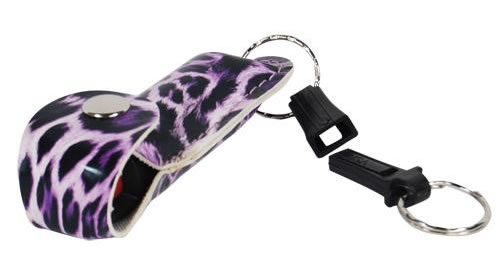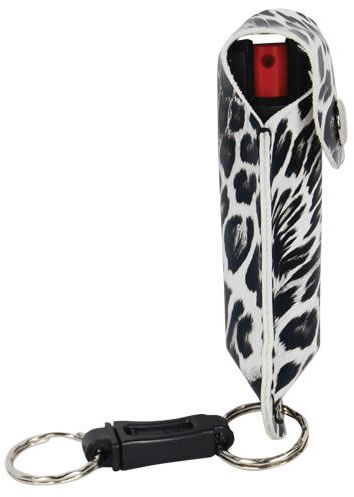 Pepper Shot 1/2 oz fashion leatherette leopard print holster and Quick Release Key Chain
Pepper Shot Pepper Spray is made with 1.2% Major Capsaicinoids. The Major Capsaicinoids are the true heat measure and Pepper Shot 1.2% MC is more effective than most other pepper sprays.
In addition to causing an attacker pain, the 8.5% oleoresin capsicum formula swells the mucous membranes, which makes breathing difficult; and swells the veins in the eyes, causing the eyes to close.
It's made from 2,000,000 SHU's of raw pepper and these effects can last up to 45 minutes and cause no permanent damage. Has a UV identifying dye to help aid in the identification of an attacker.
This 1/2 oz. Leopard Print Defensive Spray has a range of 6-8 feet and comes with a leatherette holster.
Each unit provides 6-10 one-second bursts and comes with a quick key release keychain, and safety lock. 4 ¼" x 1 ½" 
Also comes in Cheetah Print