Pepper Shot 1.2% MC 1/2 oz pepper spray fashion leatherette holster and quick release keychain cheetah black/pink
The highly popular Pepper Shot now comes in fashion colors! Still the same super hot formula but now comes with a cheetah pattern holster. These fashion designs give you the flair you're after while also providing powerful pepper spray protection.
Fashion Cheetah Pepper Spray
The Cheetah pepper spray is an intense formula of hotness that will immediately debilitate your attacker when you spray it in their face.
Pepper Shot Pepper Spray is made with 1.2% Major Capsaicinoids. The Major Capsaicinoids are the true heat measure and Pepper Shot 1.2% MC is more effective than of most other pepper sprays.
In addition to causing an attacker pain, The Pepper Shot 8.5% oleoresin capsicum formula swells the mucous membranes, which makes breathing difficult, and swells the veins in the eyes, causing the eyes to close.
It's made from 2,000,000 SHU's of raw pepper and these effects can last up to 45 minutes and cause no permanent damage.
Has a UV identifying dye to help aid in the identification of an attacker.
Pepper Shot 1/2 oz. Pepper Spray has a range of 6-8 feet and comes with a leatherette holster.
Each unit provides 6-10 one-second bursts and comes with a quick key release keychain, and safety lock. 4 ¼" x 1 ½" 
A self defense spray is still the number one way to effectively protect yourself very inexpensively. Simply carrying one of these on your keychain gives you the ability to stop an attack even before it starts.
Pepper Shot 1.2% MC 1/2 oz pepper spray fashion leatherette holster and quick release keychain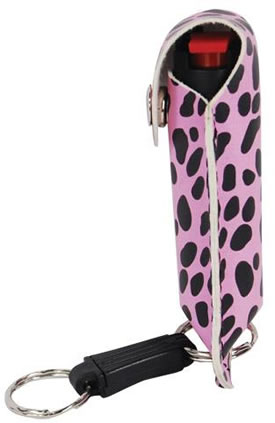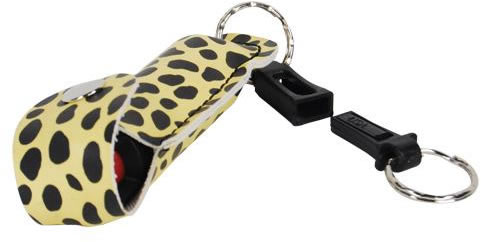 Also comes in Leopard Print
Essential Information About Pepper Spray
Pepper spray is a chemical compound that is designed to cause irritation when sprayed at a person or animal. The spray stems from the extracted capsicum that is used to make the compound. The spray typically evokes pain and tears and can even cause short-term blindness. It is most commonly used as a form of self defense. While it is quite effective for this purpose, it must be used appropriately and with caution.
The spray is designed to allow a victim to get away from an assailant. It is a non-lethal form of self-defense, which is why many people use it. It is legal to carry pepper spray in all states, though some local regulations apply in specific areas. Some establishments also ban patrons from carrying pepper spray, as it is considered a weapon at times. Again, this is why it must be used as carefully as possible.
Pepper spray should always be sprayed downwind. If it is sprayed against the wind, it is blown back into the victim's eyes and face. This can cause great pain and may exacerbate a dangerous situation. In addition to spraying downwind, there are specific steps listed on the packaging of most pepper sprays. These directions should be followed for best results.
Pepper spray is a fairly inexpensive product and the spray canisters come in a variety of colors and patterns. Pocket-sized or purse-sized sprays are particularly popular, as they are easy to conceal.
In recent years, OC has been sold in the form of a spray gel or foam. This prevents the spray from blowing back into the user's eyes, and it allows users to aim the spray more accurately. The product description of a pepper spray will make it clear if the spray is a liquid, gel, or foam.