Throwing Knife Set
What better way to begin a new hobby than with a set of these professionally manufactured blades. Balanced for ease of use and accuracy, you'll be able to hit the target in no time at all. Pretty soon, you be hitting the bullseye with every toss. Competition between friends can make an afternoon a truly enjoyable experience for all of you.
Throwing Knife Set for Beginners
This throwing knife set features black, blue, and red blades and steel handles, with a 6-1/2-inch overall length. This three-piece throwing knife set provides a well-balanced throw every time. Throw lightning fast with these throwers.
Professional Throwing Knives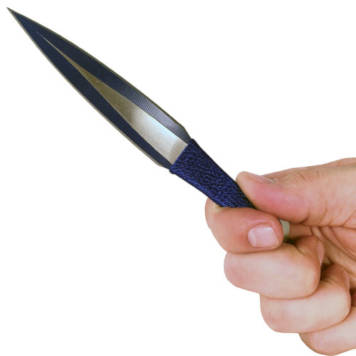 Comes with a sheath and nylon wrist strap. You can attach the holder to your forearm and pull from there to throw.
3-piece throwing knife set provides a well-balanced throw every time

3 Colors - stainless steel blades

Laser cut-out at end of the handle allows a ribbon to be tied on

Includes black nylon sheath for easy and safe transport

Each knife measures 6-1/2 inches overall 
Therapeutic - Got some aggression to get rid of? You'll find that hurling a set of throwing knives at something and making them stick is a great stress reliever. Not only that, you're getting better and better at hitting your mark every time you practice.
Embark on a New Adventure with a Throwing Knife Set
Throwing knives is probably something you'd expect to see at a circus or a magic show, with some helpless assistant strapped to a spinning wheel while the blindfolded star of the show demonstrates his talents with superb accuracy. Did you know that throwing knives can also be a fun activity for anybody to take up? You can buy a throwing knife set for yourself and enter into a brand new world of fun and excitement.
It's certainly an unusual hobby, and not something that you would expect the average person to do, but knife throwing is definitely not just reserved for public displays and TV shows like many would believe. Taking up this sport actually has a lot of benefits beyond just the thrill of being able to practice in a safe manner. 
Not only does it give you something unique and fun to do, but it also makes for a great group activity. Gathering a group of friends together and bringing them into your hobby is great fun and a unique and special way to bring people together. It's also an excellent talking point! How many people would take an interest if you told them that you participate in throwing knives for fun? How many people do you know that do this artistically in their spare time? 
By purchasing a throwing knife set you can set out on a whole new adventure. You'll develop new talent, discover an excellent way to have fun, and earn yourself a new party trick to show off. There's no denying that it is impressive to watch, no matter what level it is on.
Knife throwing is an activity world's apart from many others as it can be classified as a sport, combat skill, art, entertainment, or a combination of all of them. Successfully being able to throw in the correct manner and safely is undeniably a special talent, but with practice and dedication, it's a talent that you can learn and demonstrate yourself.
One of the key benefits of this sport is that it is a great way to improve your accuracy and hand-eye coordination and it is great for opening doors to a new social life. Not only can you treat it as a hobby, but there are also a wide variety of clubs and societies for people who like to do it too. And it is easier than you may think to find meet-ups and events to share your talent and passion with other people. 
If you really excel at throwing knives, it can even lead to possible career opportunities. Full-time or part-time, if you look hard enough there will be people out there looking for knife throwers for their events or parties. If you like a challenge and want to take your knife throwing seriously, then why not?
Why not buy a throwing knife set for yourself and discover the fun of a unique hobby that you can share with your friends? If they don't want to join in, at least you'll have an impressive new talent to wow them with!