Perfect Point Throwing Knives
Perfect Point Naruto Throwing Knife Set
Excellent way to learn something new. Making these stick into the target is very satisfying and you will get better and better each time you practice.
The Perfect Point Throwing Knife Set with Three Knives (model PP-028-3BK) features silver blades and black cord-wrapped handles, with each knife measuring 6-1/2 inches overall. This three-piece throwing knife set provides a well-balanced throw every time.
The set includes three silver stainless steel throwers with an engraved bulls-eye decoration. All knives feature cord-wrapped handles for a superior grip. It comes complete with a black nylon sheath for easy and safe transport.
With an extensive collection of throwing knives in a variety of sizes, Perfect Point offers something for everyone who is interested in the sport of throwing. 
This set comes with 3 throwing knives, each one is about 6 1/2" overall. Stainless steel construction with rings on the end of handles.
Black cord wrapped handles and embossed bulls-eye on the blade. Perfect Point Set comes with a ballistic nylon belt sheath that holds all 3 knives.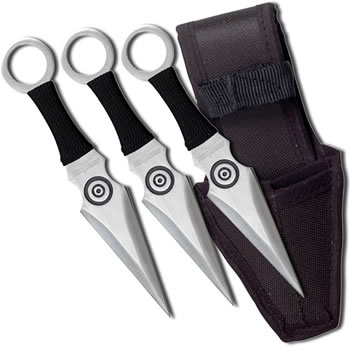 Three-piece throwing knife set provides a well-balanced throw every time

Three silver stainless steel throwers with an engraved bulls-eye decoration

Cord-wrapped handles for a superior grip

Includes black nylon sheath for easy and safe transport

Each knife measures 6-1/2 inches overall